Six Egyptian Policemen Killed in Cairo Checkpoint Attack
Unidentified gunmen attack military checkpoint as police finish dawn prayers.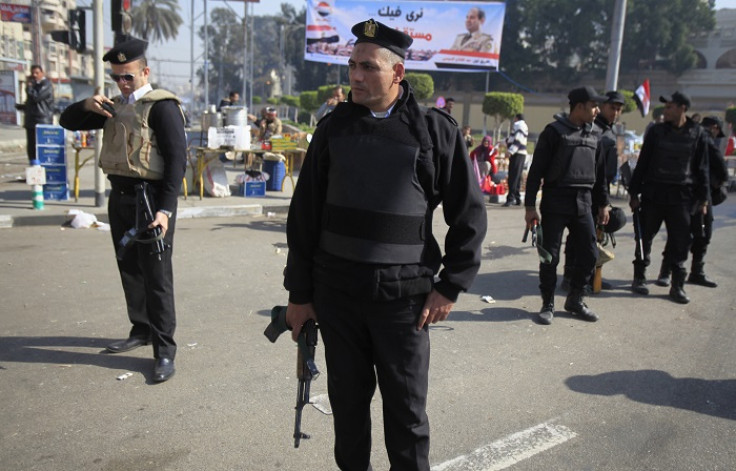 At least six military policemen have been killed at a checkpoint in a suburb north of Cairo.
Major General Mahmoud Yousri, chief of security of Qalubiya province, said attackers stormed the checkpoint early on Saturday in Shubra al-Kheima, Egypt's state news agency reported.
Yousri said explosive disposal experts managed to defuse two bombs that were left behind by the attackers but a third bomb which authorities were unable to defuse was detonated.
Colonel Ahmed Mohammed Ali, a spokesman for the armed forces, said armed members of the Muslim Brotherhood were responsible for the attack, which occurred as the soldiers finished their dawn prayers. The Islamist group denied responsibility for the attack.
"These cowardly operations will only increase our determination to continue the war against terrorism," he said.
Authorities in Egypt say the Muslim Brotherhood has carried out a series of bomb attacks against police and other targets since Islamist former president Mohamed Morsi was overthrown in July 2013.
The Sinai-based group Ansar Beit al-Maqdis (Champions of Jerusalem), which is inspired by al-Qaida, said in a statement on Saturday that one of its founding leaders, Tawfiq Mohammed Freij, was killed in a separate incident on Tuesday, when a "heat bomb" he was transporting in his car detonated after an accident.
The statement, which was posted on militant websites, said Freij was the "field commander" of a 2011 attack in southern Israel which targeted a bus and other vehicles near the resort of Eilat, killing eight people.
According to the statement, Freij moved from the Sinai to another part of Egypt in early 2013 to supervise the group's operations, which included a failed suicide bomb attack against the interior minister Mahmoud Ibrahim in Cairo in September 2013.
Ansar Beit al-Maqdis began its operations in the immediate aftermath of the January 2011 uprising that led to the ousting of Egypt's long-running ruler Hosni Mubarak.
© Copyright IBTimes 2023. All rights reserved.