Sixteen dolphins stranded in mudflats at low tide on a Cape Cod beach were saved by a caring crew of humans and an animal welfare organisation.
The animals were beached in Wellfleet, Massachusetts, as the tide washed out, leaving them struggling in the muck. Volunteers kept them wet, hoisted them onto stretchers and transported them via truck to a nearby shore with deeper water off Provincetown, where they all swam away.
The Atlantic white-sided dolphins were all tagged by the International Fund for Animal Welfare (IFAW), which orchestrated their rescue. In the event they beach again, it could be sign of illness or disorientation.
"It was a well-choreographed dance with teams at each site and in each trailer caring for the animals," said IFAW spokeswoman Katie Moore. "All animals have small yellow dorsal fin tags with our rescue phone number on them. If they are re-sighted at sea or stranded (dead or alive), we ask folks to call our hotline.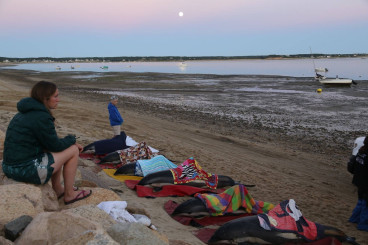 Local residents, regular volunteers, members of the nearby Chequessett Yacht and Country Club and officials from the Center for Coastal Studies and the National Park Service helped with the rescues.
"These animals were just so stunningly beautiful," beachcomber Sarah Pechukas Slivka told ABC News. "It was sad to see them stranded, but amazing to watch everyone get together and help out."
The dolphins are protected under the federal Marine Mammal Protection Act. They can weigh up to 500 pounds and live for 25 years.
A group of eight spinner dolphins far from home stranded earlier in September in Florida didn't fare so well. Despite the desperate efforts of a crew of rescuers, they all died.
Experts suspected the dolphins, rarely seen in the area, may have been pushed to the steamy waters of Florida Bay from their colder water homes in the Gulf of Mexico by Hurricane Hermine.
"They were literally seizing on the boat," Art Cooper, director of operations for the nonprofit Dolphins Plus Marine Mammal Responder group, told the Miami Herald. "They actually got worse as we went."
Known for flying, twisting leaps, the pointy-nosed spinner dolphins typically inhabit deeper offshore waters, where the population is estimated to be between 7,000 to 12,000 from South Florida to Texas.
Dolphins in the Gulf have come under increasing stress since the BP Deepwater Horizon oil spill in 2010. Between 2010 and 2014, 933 whales, dolphins and porpoises were found dead.