The Earth's incredible heatwave has officially hit 11 months as last month marked the hottest March on record. The second-hottest March was in 2015.
The US National Oceanic and Atmospheric Administration announced that March's average global temperature of 12.7C made it not only the hottest month of its kind, but it also continued a record streak that started in May 2015. The 11 heat records in a row busted a streak of 10 set back 1944. Temperatures have been tracked since 1880.
Average temperatures on the planet across land and ocean were 1.2 C above the 20th century average for March. That's a record amount above average for any month ever, breaking the previous mark set only in February. Africa and the Indian Ocean were especially warm.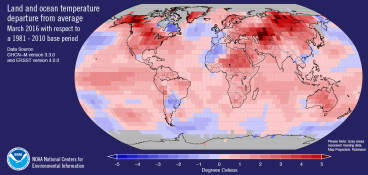 The mounting heat this year is a result of relentless man-made global warming intensified by El Nino, according to climate scientists.
What is particularly troubling is not only that the streak continues, but temperatures appear to be climbing, with 2016 already shaping up to be the hottest year ever. So far this year, the average temperature for the globe was 1.15 C above the 20th century average, yet another record-breaker.
Panicky researchers worry that the parade of broken heat records will desensitise people to the alarming severity of climate change. "It's becoming monotonous in a way," Jason Furtado, a meteorology professor at the University of Oklahoma, told the Associated Press. "It's absolutely disturbing. We're losing critical elements of our climate system."
News was particularly disturbing in the Arctic, which reached the maximum area of ice coverage for the year on 24 March, the earliest that has ever happened before the ice starts melting.