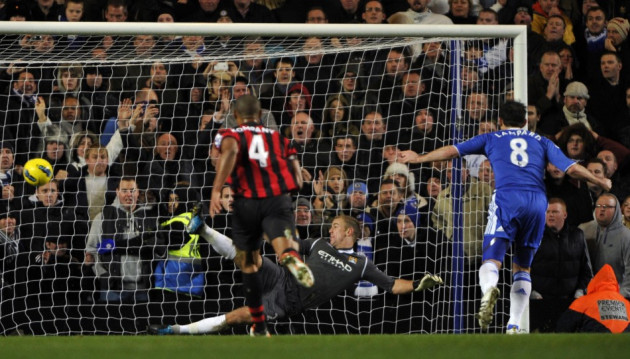 Jamie Redknapp believes the "exciting [and] dynamic" Chelsea striker Daniel Sturridge is the natural candidate to partner Wayne Rooney in the England first XI.
Sturridge was instrumental in Monday's 2-1 victory over Premier League leaders Manchester City, setting up Raul Meireles for Chelsea's first before his shot was handled by City's Joleon Lescott to gift the Blues' a late penalty.
The win lifted Chelsea up to third in the league, five points behind second-placed Manchester United and put an end to City's unbeaten start to the season.
Sky Sports pundit Redknapp admits not everyone has been entirely convinced by Sturridge's ability to turn his performances on the training ground into match-winning displays but his form this season belies a striker who is fulfilling his potential.
"He looked like a player who thought he could; a swaggering belief in his own quality, although the word was that he would leave his best form on the training ground," Redknapp told the Daily Mail.
"He needed the breakthrough on loan at Bolton (how they could do with him now) but has carried on that form into this season. And now into the big games after influencing results in the last nine days: Chelsea wins against Newcastle, Valencia and Manchester City."
At the start of the season, Sturridge was behind Nicolas Anelka, Didier Drogba and Fernando Torres in the Chelsea pecking order.
However, with Anelka bound for China and question marks over Torres' future at Stamford Bridge, Sturridge has seized the chance to become an accomplished forward - one who has the swagger and temperament to influence big matches.
"Sturridge reminds me of Arjen Robben in Jose Mourinho's conquering Chelsea team. He can go outside or inside, will charge at pace, panic defenders and, as we saw against Manchester City, he can change a game," Redknapp added.
"Gael Clichy is a very good full back, but he would have woken on Tuesday morning with scorch marks down the side of his face after being tormented by Daniel Sturridge.
"Losing 1-0 and heading nowhere, Chelsea needed a special player to drag them back into the match. You talk about moments in games - Sturridge created those moments. He set up the first and won the penalty for the second. "
Sturridge benefited from a loan spell at Bolton in January last year, scoring 15 goals in 2011 to-date, to emerge as a real talent in the Premier League.
And Redknapp suggested the Chelsea forward could provide the perfect foil to Rooney in the England first-XI.
"If the old outside-right position is where he will stay then he's in direct competition with Theo Walcott for England. I'm a Theo fan and he has been involved in a lot of Robin van Persie's goals this season, but Sturridge creates heightened competition.
"Of these wide attackers, there are Sturridge, Walcott, Scott Sinclair and Welbeck, who can also play through the middle, as well as conventional wingers such as Ashley Young and Stewart Downing. Sturridge is the emerging player.
"Exciting, dynamic, direct and a real threat. How will he react now to teams setting traps for him and preparing ways to stop him, such as doubling up? That's his next challenge, but he's passing each test so far."