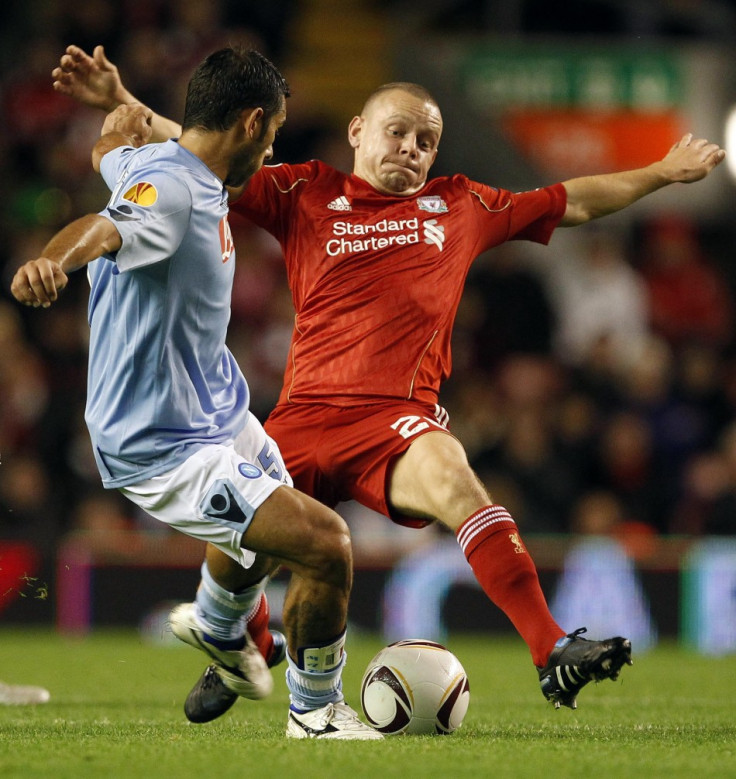 Paul Merson believes Liverpool will sorely miss Lucas Leiva for the remainder of the season and has questioned Jay Spearing's ability to replace the hugely improved Brazilian.
Leiva sustained ligament damage to his knee during Liverpool's recent Carling Cup victory at Stamford Bridge, and the aforementioned Spearing has been widely tipped to replace the midfielder in Kenny Dalglish's starting XI.
Merson believes Leiva's form over the last 18-months suggests he is likely to be missed by Liverpool and although he rates Spearing, the former England international is unsure if he has the capacity to play at the highest level "every week".
Spearing enjoyed a breakthrough year at Anfield last season, reviving his Liverpool career under Kenny Dalglish and displaying the kind of promise which has long been associated with the 23-year-old. The youngster is likely to start Liverpool's game against Fulham tonight, but Merson believes you are never quite sure what type of performance the Reds will deliver.
"Liverpool have been a bag of Revels so far this season, you just don't know what you're going to get." The former England international told skysports.com.
"They drew 0-0 at home to Swansea, but they've done really well in big games against Chelsea and Man City. I know they slaughtered Fulham last year, but games like these are often banana skins for them.
"Lucas has been their ball-winner and has been outstanding this year. He gets some stick, but they won't half miss him now he's injured for the rest of the season. I like Jay Spearing, but I don't know if he's ready to play every week. He can do the job for two or three games, but can he do it for 20?
"I was surprised to see Maxi Rodriguez on the team sheet against Chelsea... I thought he'd left! He's a good player and he played well in that game. He also scored a hat-trick at Fulham last year and managers will look at things like that. It might be worth playing him here.
"As for Andy Carroll, I don't know what you do with him. When you go to a big club, it's very hard to be given a chance when you don't get off to a flying start. He missed a penalty in midweek and you wonder how many more knocks he can take.
"Fulham are a total football team, so I don't think you need a physical presence in the same was as you would at places like Stoke. I don't think he'll play, but I assume Kenny Dalglish will have a word in his ear to explain the reasons and to keep his spirits up.
"I watched Fulham at Arsenal and they were decent. They get the ball down and play, so this should be a good game full of goals."
Although Merson suggests Spearing may lack the necessary experience to nail down a regular starting berth for Liverpool, Jamie Carragher has no such concerns.
"Jay Spearing was outstanding towards the end of last season. He was superb in our win at Fulham." Carragher told the Liverpool Echo.
"In the Carling Cup this season he's also done really well. He has started away to Stoke and Chelsea - that's two of the toughest away games you can get in the Premier League. He's performed well and we got good victories in both of those Cup games.
"No-one will be worried one bit about putting Jay in there. He's proven before that he's more than good enough at this level and I'm sure he will prove it again."