Kim Jong-un has struck terror into the hearts of millions around the world with his rogue missile tests and nuclear ambitions. And paired with his chubby features and old-fashioned haircut, the North Korean leader has become one of the most recognisable – and feared – figures in the world.
But a photoshopped image showing what the country's Supreme Leader would look like if he slimmed down shows that he could cast an even more terrifying silhouette.
Posted on Reddit on Wednesday (27 September) under the headline "Skinny Kim Jong Un would make the situation with North Korea more intimidating", the doctored picture has since gone viral and prompted thousands of responses.
One user wrote: "Jeez, he'd look even more like a young, villainous sociopath. Fitting, really. He should lose weight."
Another added: "Gotta say, skinny Un would make a decent Bond villain."
While a third wrote: "Oh god, he would look evil. Good thing ol' chubby ain't ever going to change, so we can keep making fun of him."
Kim Jong-un's weight and health has been the subject of repeated speculation since he took over as leader of the country when his father, Kim Jong-il, died of a heart attack in 2011.
South Korea's spy agency has said he weighed 90kg when he took power, but ballooned to 120kg within just two years. As of July 2016, he is thought to weigh 130kg.
It has led some to believe his food binges are having a detrimental effect on his health – and that he could be heading to an early grave.
"Because of his habitual binge eating and drinking, he is likely to develop adult [lifestyle] diseases," Lee Cheol-woo, a member of South Korea's ruling party, told journalists last year.
In late 2014, speculation over Kim Jong-un's health rose when he failed to appear in public for three weeks, even missing a session of the Supreme People's Assembly.
State TV footage had showed him months before limping during a factory inspection, fuelling rumours he had developed gout or diabetes.
But some analysts believe the rapid weight gain, unique haircut and uneasy gait has been an intentional ploy to make himself appear more like his grandfather and the country's "eternal leader", Kim Il-sung.
Evan Osnos, a foreign affairs journalist who writes for The New Yorker, spoke this month on how North Korea's leader has tried to re-model himself on the country's founder.
"Kim Jong-un is very easy to underestimate," he told The New Yorker. "He's a faintly comical figure; he's got this haircut, straight out of the 50s."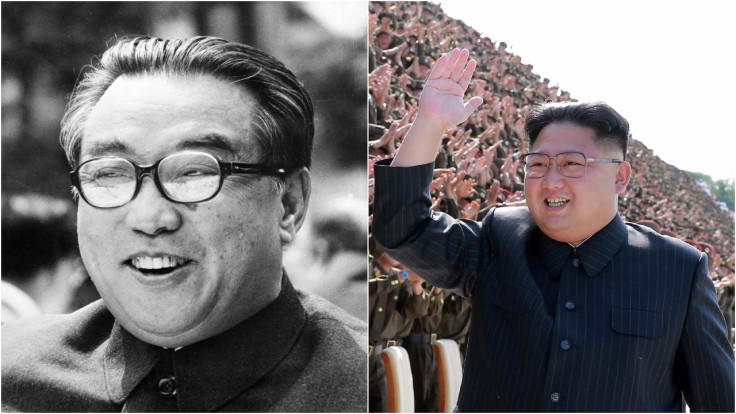 Osnos continues: "And what you begin to realise as you dig further into his background is that actually he's made some very shrewd choices.
"The haircut? That's actually a political device. He decided very early on that one of the ways he was going to succeed was by looking like his grandfather, Kim Il-sung.
"Kim Il-sung is immensely popular in North Korea. He was the founder of the country. He was the guerrilla who, according to their own self-narrative, led them to victory.
"Kim Jong Un has never been in the military, he had none of that background, and so what he did is he draped himself in the family history. He put on weight, he started wearing glasses, he started walking like an old man – and this worked.
"When you go to North Korea today people will talk about the fact that he looks like his grandfather. The propaganda promotes this image all the time."
Cho Myung-Chul, a North Korean defector who fled south, said the association of being fat with prosperity among his former countrymen and women could also be behind Kim Jong-un's weight gain.
"North Koreans think being fat is good, unlike South Koreans who want to be skinny. There is a high chance Jong-un intentionally gained weight to look like Il-sung," he said in 2012 interview.