Otto Warmbier was deaf, blind and made 'inhuman howls' on return from North Korea
The 22-year-old's parents opened up about how their son was tortured by the reclusive regime.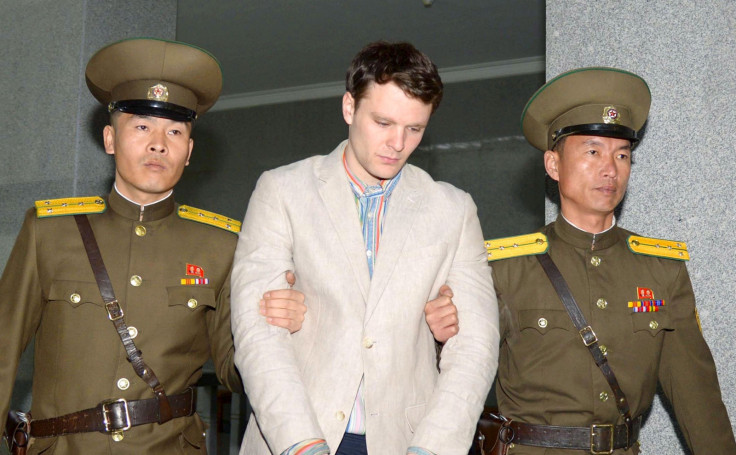 The parents of Otto Warmbier have opened up about seeing their son for the first time after he was flown back from North Korea in June. The Warmbiers revealed their son had been tortured by the repressive regime, leaving him blind and deaf.
In an interview with Fox News, Fred and Cindy Warmbier said they had originally hoped that Otto would get better with medical care in the US. Seeing their son after he landed back home in Ohio dashed those hopes.
Cindy told "Fox & Friends" that the family had been told that Otto was brain damaged after being imprisoned for more than a year for allegedly attempted to steal a propaganda poster. However, the parents soon saw the extent of his injuries.
Otto was blind and deaf, had mangled teeth, was jerking violently and moaning on a stretcher, Fox News reported.
"We walked over to the plane, the engines are still humming, they had just landed...when we got halfway up the steps we heard this howling, involuntary, inhuman sound," Fred said. "We weren't really certain that it was."
The couple saw their son on a stretcher, violently jerking and making the terrifying howls. "Otto had a shaved head, he had a feeding tube coming out of his nose, he was staring blankly into space, jerking violently," his father said.
"He was blind. He was deaf. As we looked at him and tried to comfort him it looked like someone had taken a pair of pliers and rearranged his bottom teeth."
Fred added: "North Korea is not a victim, they are terrorists. They purposefully and intentionally injured Otto." Kim Jong Un's regime has vehemently denied that it tortured Otto, claiming he was treated in accordance of domestic law and international standards, Fox News noted.
"We see North Korea claiming to be a victim and the world is picking on them, and we're here to tell you North Korea is not a victim," Fred said. "They are terrorists. They kidnapped Otto, they tortured him, [and] they intentionally injured him."
Otto spent the final days of his life at the University of Cincinnati Medical Center, before dying on 19 June.
© Copyright IBTimes 2023. All rights reserved.