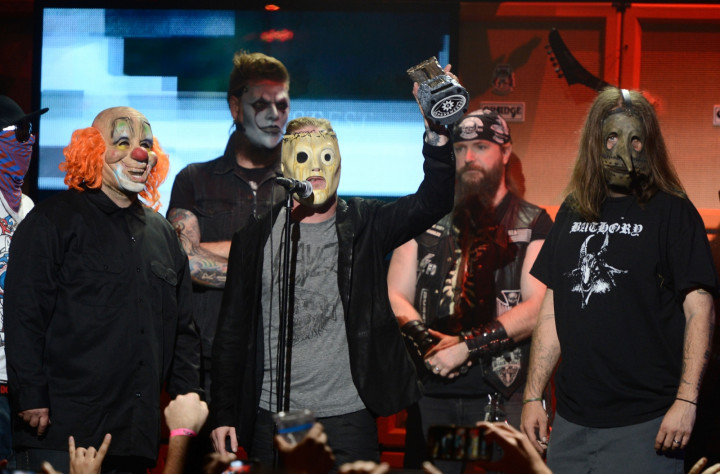 Metal band Slipknot's upcoming music festival will leave a lasting impression on all those attending for something other than the music - the smell of burning camel dung.
According to the band, Knotfest, due to take place San Bernardino, California from 24 to 26 October, will be the first music festival to have its own official aroma which will "infest your brain, body and clothes" long after the event is finished.
The unusual smell was personally chosen by Slipknot themselves and will be burnt with charcoal for the entire three days "like we're doing ribs", according to Slipknot's percussionist Shawn 'Clown' Crahan.
"We did the camel dung on the first Knotfest. It was awesome; it was beautiful," Crahan told Rolling Stone. "[Fans] came into the museum and they had to be hit with camel s**t. A very distinct smell. You can't huff it, but it's got this smell. And it's not necessarily the most comfortable thing, but it's not necessarily the worst thing, it's just remembering thoughts — it's gonna be a reoccurring thing."
Crahan hopes all those attending the festival will have a shared experience by constantly inhaling the burning dung and that it will trigger fond memories in the future just like "freshly mowed grass".
"I like being in a different state that doesn't even have grass and think that I smell fresh-cut grass. It brings me home. Makes me feel safe," said Crahan.
"So, I figure, since we're not a band anymore — we're a culture, everybody needs to get used to that real quick — that the culture has to have a smell. You have to be able to be somewhere in the world, maybe be in a little pain, and then all of a sudden smell and feel good again."
As for how they intend to bring in three days' worth of camel dung, Crahan admits it's not his area of expertise.
"I just put out the order and the captains go out and get it done," he adds.
Slipknot will headline the upcoming festival, which will also see performances from bands such as Danzig, Anthrax and Five Finger Death Punch.