Smarpthone 'Porn Browser' Launched to Bypass UK Porn Filters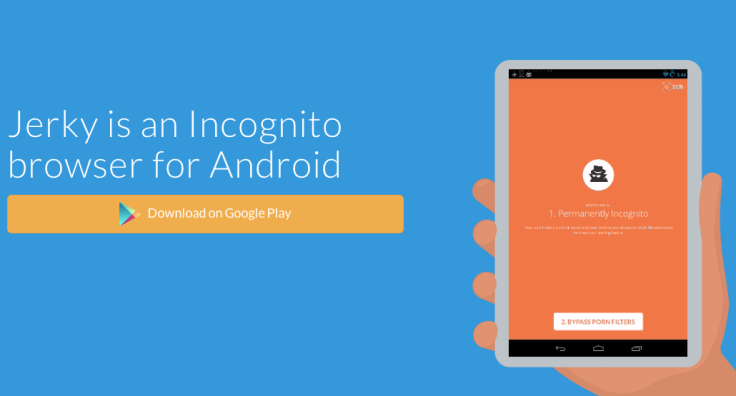 A web browser called Jerky has been launched to help people bypass the UK porn filter.
The browser has been built and released by the same person who launched the Go Away Cameron extension for the Chrome desktop browser, which allowed people bypass any filters which were put in place by UK internet service providers (ISPs) last year.
At the behest of David Cameron, UK ISPs were ordered to block porn websites by default in order to protect children though account holders can choose to opt out if they wish.
Now the same developer, Steven Goh, who is a Singapore-based computer science graduate, has created an Android web browser called Jerky which claimed to be the only browser solely built for private browsing.
Porn browser
The app - or "porn browser" as Goh himself called it in an email to IBTimes UK - will allow you bypass any filters put in place by your ISP as well as promising that your browsing history is never saved and your cookies are always deleted.
The app promises to further keep your clandestine web history safe with a password protect feature which will block anyone else from using the Jerky browser even if it is still running in the background when they pick up your smartphone or tablet.
The app has been downloaded more than 10,000 times already and has very positive reviews on the Google Play store. It is free to download and will give you a 30-day trial for free, but after that it requires a 99p monthly subscription.
Jerky for iPhone
The developer is planning to develop Jerky for iPhone and iPad soon and is looking to recruit 500 people to test a beta version of the app.
While the new measures enforced by the government in the UK before Christmas have been widely called a porn filter, the only change has been that ISPs are now implementing by default a block on certain websites which were previously not blocked by default.
This is more parental controls than a real porn filter but whatever you want to call it, the measures came in for some criticism following their introduction, with many sites related to sexual health, domestic abuse and rape crisis being blocked by the new measures.
© Copyright IBTimes 2023. All rights reserved.