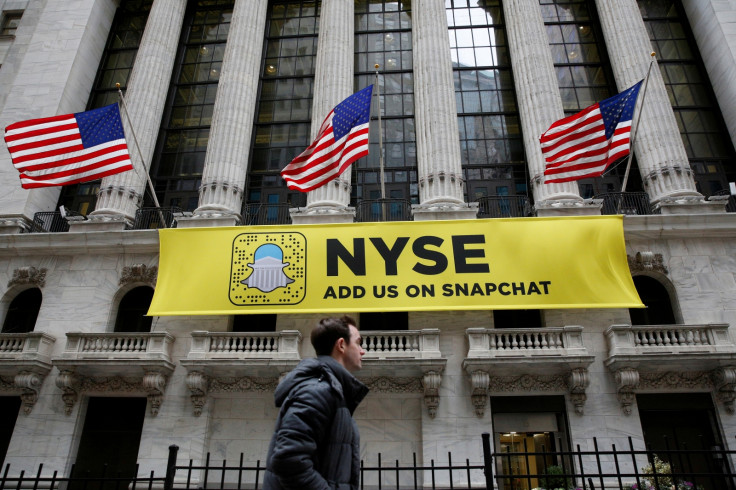 Shares in Snapchat were set to begin trading at around $22-$24 on Thursday (2 March), much higher than in its initial public offering (IPO), as Snap, the owner of the messaging app, made its stock market debut on the New York Stock Exchange.
The company priced its share at $17 in its IPO, giving it a valuation of around $24bn. However, within the first few hours of trading, the stock capped $25. At 5:10pm GMT, Snapchat was trading 48.01% above its offer price at $25.16.
The spectacular debut comes despite the fact that the company has never posted a profit. On Wednesday, Snap raised $3.4bn in its initial public offering, which was 12 times over-subscribed.
Sources quoted by US network CNBC said subscribers got as little as 2% of the number of shares they were looking to purchase.
When the company formally revealed its IPO plans in February, it disclosed it had made a loss of $515m last year, while revenue stood at $404m.
"With around 150 million daily users, Snapchat is more popular than Twitter," said Nicholas Hyett, equity analyst at Hargreaves Lansdown.
"However, the investment case is about more than monetising the app. The group is pitching itself as a camera company, and hopes that innovations such as 'Spectacles', essentially sunglasses that can record video, can transform how we see the world."
Jordan Hiscott, chief trader at Ayondo Markets, added: "Snap is undoubtedly the most talked-about tech IPO since Facebook and it's amazing when you think of its humble beginnings just six years ago.
"While the valuation of $25bn does seem fully loaded, the user growth Snapchat has seen in such a short space of time makes this an exciting prospect."