Smithsonian secretary David Skorton hopes the new National Museum of African American History and Culture can help heal the persistent problem of racism in the US. "Opening now, at a time when social and political discord remind us that racism is not, unfortunately, a thing of the past, this museum can, and I believe will, help us advance the public conversation," he explains.
The museum will be inaugurated on 24 September by President Barack Obama, who got a sneak peek of the exhibits yesterday (14 September).
The 36,000 items in the collection range from trade goods used to buy slaves in Africa to a segregated railway car from the 1920s and a red Cadillac convertible belonging to rock 'n' roll pioneer Chuck Berry. Other displays include a slave cabin from South Carolina, a robe and boxing gloves worn by Muhammmad Ali, the coffin of Emmett Till, whose 1955 murder in Mississippi helped galvanise the civil rights movement, and the dress worn by famed contralto Marion Anderson as she sang at the Lincoln Memorial on Easter Sunday in 1939 after being denied the right to perform at the Constitution Hall because of her race.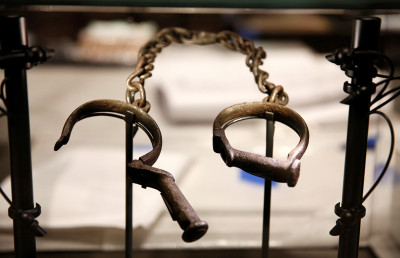 "This museum on the National Mall, or as we all call it America's front yard, tries to fulfil the dreams of so many generations who believed that America would be made better if it understood, if it grappled with, if it immersed itself in the African-American experience " said Lonnie Bunch, founding director of the Smithsonian Museum of African American History and Culture.
The building, designed by Ghanaian-born architect David Adjaye, is based on a three-tiered crown on an African sculpture. The museum's outer layer consists of 3,600 bronze-coloured aluminium panels designed to evoke ornate ironwork created by enslaved craftsmen in New Orleans.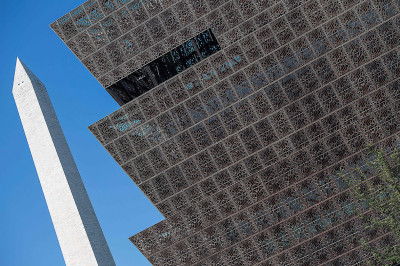 Black Civil War veterans first proposed an African-American museum in 1915. Congress approved its creation in 2003, and construction of the building took almost four years. Three days of opening festivities will include concerts with such artistes as Public Enemy, Living Colour and Meshell Ndegeocello.
Although workers are still putting finishing touches to the museum, Bunch is confident it would be ready in time for the opening. "It's a piece of cake," he said. A Smithsonian spokesman said 200,000 timed passes have been snapped up, with no admissions available until November.