The "Snow of the Century" – a weekend-long snowstorm in Moscow – has delayed flights, cut power supplies and even prompted school authorities to call a snow day — a highly unusual occurrence in the Russian capital. The Meteorological Office said that more than an average month's amount of snow fell on Moscow over the weekend, with the depth of the snow reaching 62 centimetres (24.5 inches) in some parts of the capital.
Moscow is blanketed in white after being hit over the weekend by the heaviest snowfall since records began.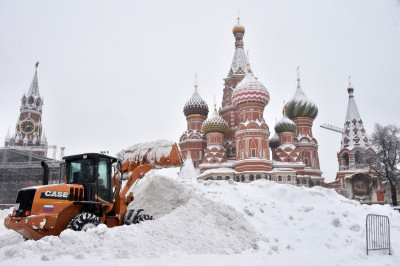 In a city where school is rarely ever cancelled, Moscow Mayor Sergei Sobyanin said parents are not expected to take children to school on Monday (5 February). More than 60,000 households in regions surrounding Moscow were left without electricity over the weekend.
Heavy snow and freezing rain have knocked down thousands of trees in the Russian capital and one person is reported to have been killed. The mayor said on Twitter that one person died in the city on Saturday (3 February) when falling trees took down power lines. He said five other people had been injured in the heavy snow, but did not elaborate. The mayor said more than 2,000 trees have fallen so far in Moscow due to the snow and rain.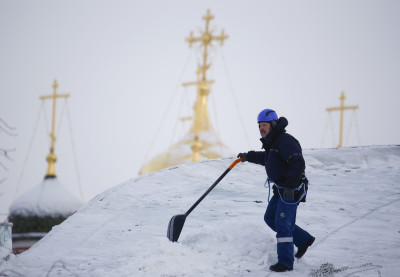 Days of heavy snow triggered a sharp increase in traffic accidents and severely impacted urban transportation. According to official data, 19 accidents occurred on Saturday in Moscow, injuring more than 20 people.
As of Sunday, local authorities had dispatched 15,000 snow removing vehicles and nearly 70,000 sanitation workers to clear the city's 800,000 cubic metres of snow within 24 hours to avoid any more accidents. Nearly 30 flights were cancelled at major airports in Moscow due to the inclement weather.
Russian meteorological authorities forecast the snowstorm will continue to affect Moscow over the next two days, with wind speeds reaching 20 metres per second and temperatures dipping below 10 degrees Celsius.