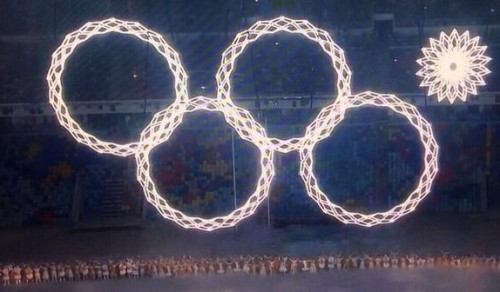 Netizens seem to have taken the '2014 Sochi: Man Stabbed to Death...' hoax seriously with some of the launching into a harangue on Moscow and the alleged human rights violations in Russia.
The article, which was published on fake news website The Daily Currant on 8 February, went viral with more than 31,000 shares on Facebook and 6,000 tweets.
The article reads: "The man responsible for operating the Olympic Rings during last night's Winter Olympic Opening Ceremonies in Russia was found dead today. According to local reports the body of T. Borris Avdeyev was found his hotel room early this morning with multiple stab wounds."
"It's terrible when accidents like this happen. But then again, maybe Mr. Avdeyev should have thought twice before he screwed up the Olympics. Accidents tend to happen to people who betray Russia," says the phony police officer in the fictional report.
According to the Epoch Times, a large number of people appeared to believe the content of the Olympics article. The readers apparently did not realise the satirical nature of the article and took to social media to express their disgust and shock at the report. Below are some of the tweets, as reported by International Digital Times:
Omg don't mess with Russia and their Olympics!!! http://t.co/3wluzwmQlD

— Kendall Haynes (@kendall_haynes) February 9, 2014
Olympics are like 2 days in and it's already crazy? "Man Responsible For Olympic Ring Mishap Found Dead In Sochi http://t.co/dSG3utkGN2 " — jessie (@jessharris14) February 9, 2014
Have you seen this @heatherpeace what the hell is goin on in this world? http://t.co/4gvPrhCJDL

— Hayley Guild (@Layleeeey) February 8, 2014
We joked this would happen and now I feel bad. :( http://t.co/sP879Ohw2v — rentus (@rentuss) February 8, 2014
And so much for the humanrights! Man Responsible For Olympic Ring Mishap Found Dead In Sochi http://t.co/f8dXh1Ykyd

— Kaisa Holopainen (@KaisaMeeri) February 8, 2014
The Daily Currant's disclaimer reads:
"The Daily Currant is an English language online satirical newspaper that covers global politics, business, technology, entertainment, science, health and media. It is accessible from over 190 countries worldwide – now including South Sudan," it says. "Our mission is to ridicule the timid ignorance which obstructs our progress, and promote intelligence – which presses forward."
It adds: "Our stories are purely fictional. However they are meant to address real-world issues through satire and often refer and link to real events happening in the world."