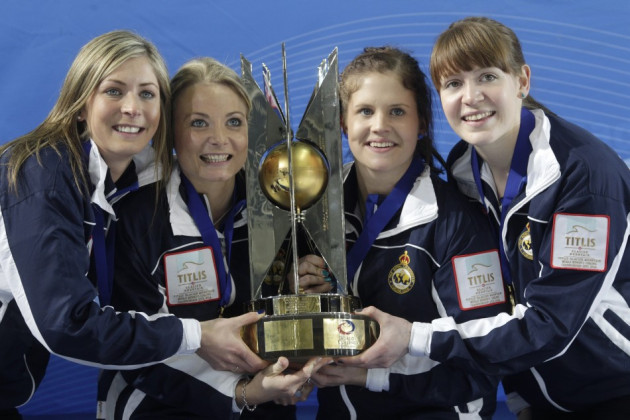 British curling quartet Eve Muirhead, Claire Hamilton, Vicki Adams and Anna Sloan are the first athletes to be confirmed to compete at the Sochi 2014 Olympic Winter Games.
Muirhead, who competed at the Vancouver Games in 2010, skippers the all-Scottish team who enter the Olympics as the reigning World Champions after their victory in Riga.
The rink have been together since the 2011/12 season and have also collected the European title on their way to being ranked among the favourites for gold in Sochi.
"I am thrilled to be part of Team GB in Sochi," Muirhead said. "This will be my second Olympics and I'm excited - having won the worlds this year we want to continue our winning streak.
"It's not often we get to compete as Team GB and, as proud as we are to compete for Scotland, it's great to be part of a British team too."
Team GB's Chef de Mission Mike Hay has declared the British team will be the best prepared group of athletes to compete at a winter Olympics.
"I am delighted to welcome the curlers as the first members of Team GB," Hay said. "They are reigning World Champions and earned the right for Team GB to be represented at the Sochi 2014 Olympic Winter Games with their performances at the past two World Championships.
"The 2013 season was their best ever, adding the Players' Championships to their world crown so they know how to win and what it takes to be successful at major events.
"With Eve skipping the rink they also have Olympic experience to draw on from Vancouver 2010 so they are well equipped to challenge for medals in Sochi."
GB won curling gold at Salt Lake City in 2002 and Rhona Howie, who led the team to gold 11 years ago, is now the head coach of the women's team
"Competing at an Olympics is the highlight of any athlete's career and I'd like to congratulate each of the girls on their selection - they're a very talented team and they all richly deserve their places on the flight to Sochi," Howie said.
"I am proud to be their Head Coach and look forward to helping them continue on their journey to the Games."