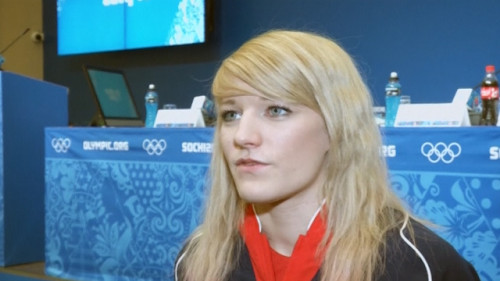 Where to Watch Live:
Live coverage of Day 6 of the Sochi Winter Olympics 2014 starts at 05:00 (GMT) on BBC2, red button, radio and BBC Online.
Events:
Curling – women's round robin sessions 5 and 6, men's round robin session 6 (from 05:00)
Freestyle skiing – men's ski slopestyle qualification and finals (from 06:15)
Skeleton – women's heat 1 and 2 (from 07:30)
Ice hockey - women's preliminary round group B, men's preliminary round group A (from 08:00)
Cross-Country – ladies' 10km classic (from 10:00)
Short track skating – ladies' 500m, men's 1000 heats and 5000m relay semi-finals (from 10:00)
Speed skating – ladies' 1000m (from 14:00)
Biathlon – men's individual 20km (from 14:00)
Figure Skating – men's short programme (from 15:00)
Luge - team relay competition (from 16:15)
Brits to Watch
Elise Christie (speed skating)
James Woods (ski slopestyle)
GB teams (curling)
Lizzy Yarnold and Shelley Rudman (Skeleton)
Lee Jackson (Biathlon)
Highlights:
Speed skating
The day has come for Elise Christie to show the world what she's got as she takes to the ice in the speed skating.
The 23-year-old from Nottingham competed in Vancouver 2010 where she came 11th in the 500m, 20th in the 1000m and 19th in the 1500m races.
Last season saw Christie claim the most successful season of any British female speed skater, picking up silver in the 1000m in Calgary which sparked off an eight-medal winning World Cup haul which helped her become world no.1 in the distance.
If that wasn't enough she also became European champion and won Britain's first ever medal at the individual women's World Championships where she picked up bronze.
Ski Slopestyle
James Woods is the man of the moment in British slopestyle skiing but the 22-year-old, known as Woodsy, suffered a blow in training last week after he picked up a hip injury following a crash.
While admitting that he's not 100%, he's determined to compete to the best of his ability.
"I am a little upset because I wanted the opportunity to perform at 100% and I have to hope it doesn't hold me back too much," Woods told BBC Sport.
"I'm just going to give it all I can."
Woods became only the second ever British medallist to medal at World Championship level after picking up silver at the Freestyle World Championships.
Skeleton
24-year-old Lizzy Yarnold entered these Winter Olympics on a high having won the skeleton World Cup last month and her ambition to replicate Jenny Jones' success from Sunday will prove to be a driving incentive ahead of tomorrow's event.
Yarnold won four of the eight World Cup events last January and has been the fastest on unofficial training runs in Russia, finishing with times half a second quicker than the rest of her rivals.
"We have about 40 runs before we compete on each Olympic track, so it's a really good chance to get to know all the corners in turn because there are so many different lines you can take on each corner," Yarnold told BBC Sport.
"This track, specifically, is a lot of fun to slide."
"The corners sweep from left to right to left, so as long as you let the sled go and embrace the speed, it's so much fun. But training is training. Racing is a completely different thing."