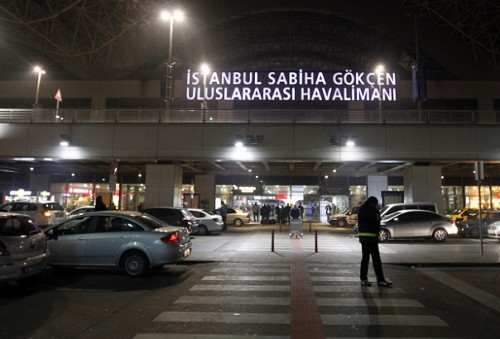 A Ukrainian airline passenger has been detained after a reported drunken' hijack attempt.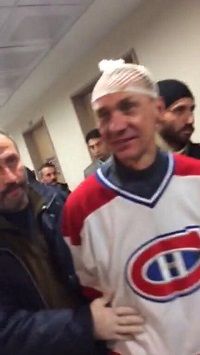 Artem Hozlov, pictured wearing a Montreal Canadiens jersey, threatened passengers with a bomb on a Pegasus Airlines flight from Kharkov to Istanbul and demanded to fly to the Winter Olympic games in Sochi.
The pilot sent out an alert and Turkish special forces were scrambled to accompany the plane to Istanbul's Sabiha Gokcen airport on Friday evening.
The 110 passengers on board were said to have endured a tense wait as the man was persuaded to remain calm while the plane made an emergency landing. He was later taken to Istanbul police headquarters for questioning.
Istanbul governor Huseyin Avni Mutlu told reporters: "Through a very successful implementation by our pilot and crew, the plane landed in Istanbul instead of Sochi.
"He thought it was going to Sochi but after a while he realised that the plane was in Istanbul."
It is believed the man was in a state of "severe alcohol intoxication", though Mutlu said the man was not drunk but might have taken "substances" to keep him alert.
The hijack drama comes amid heightened terrorism fears surrounding the Winter Olympic Games in Sochi. US officials have already warned about the potential for 'toothpaste' bombs on flights.
One passenger, Gokhan Yildirim, said of the ordeal: "He said that he had bomb on him, and a friend of his would explode it remotely if he was harmed."
The Pegasus Airlines Boeing 737-800 had been over the Black Sea on its way to Istanbul from the Ukrainian city of Kharkov.
Habib Soluk, deputy Turkish transport minister, said: "A Pegasus Airlines plane with 110 people on board had to land at Sabiha Gokcen airport because a passenger threatened passengers with a bomb.
"We are sure that he didn't enter the cockpit. We know that the aircraft was hijacked before it entered Turkish airspace."
Mutlu said that there was no evidence of the suspect being linked to any organisation but investigations would be carried out.
He added that all passengers were evacuated "without any problems".
With about 100,000 police, security agents and army troops flooding Sochi, Russia has pledged to ensure "the safest Olympics in history".
But according to Reuters, US and European Intelligence say reports of possible Olympics-related attacks continue to flow into western agencies.