Archbishop Who Banned Gay Soho Mass Isn't Homophobe, Claims Ally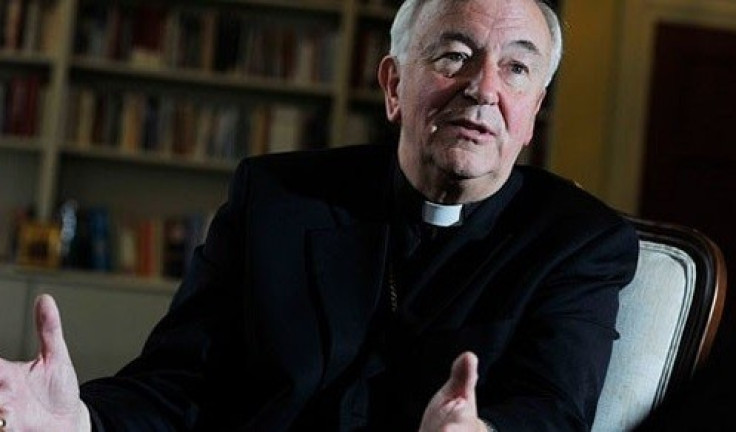 The archbishop who banned a mass for gay people at a Catholic Church is not a homophobe who acted out of contempt for gay marriage, according to a church ally.
Archbishop Vincent Nicholas of Westminster this week ended a bimonthly service especially for homosexuals at a Soho church in central London, after six years.
His decision to abolish the "Soho Mass" at Our Lady of the Assumption church came as the Government's plans to legalise gay marriage continue to cause controversy. Pope Benedict spoke out last week against plans by the Coalition to legalise homosexual nuptials.
Gay groups sharply criticised the ban, but Archbishop Nicholas was defended by the very priest who used to lead the now-proscribed mass.
Father Timothy Radcliffe told the Londoner said: "The Archbishop has always been very supportive of this group, and it would be so untrue if the impression were to be given that he is anti-gay. Anything linking the story to his opposition to gay marriage is simply misguided."
Nicholas has previously spoken out against gay marriage. However he insists that stopping the Soho Mass was not a reaction against same-sex weddings, but rather a move to preserve the traditional makeup of the service.
"The Mass is always to retain its essential character as the highest prayer of the whole Church," Nicholas said, stressing there would still be pastoral care to help gay Catholics "take a full part in the life of the Church."
Gay pressure group Stonewall has voiced its disapproval at Archbishop Nicholas' decision, and said that abandoning gay masses could even place members of the congregation at risk of danger.
"It is a real shame he's taken away an opportunity for gay Catholics to celebrate mass in a safe environment" said director of public affairs, Ruth Hunt.
"Given what's happened over Christmas, where there were vitriolic and mean messages from the pulpit about same-sex marriage, there has never been a more important time to provide a safe space for gay Catholics to pray."
© Copyright IBTimes 2023. All rights reserved.