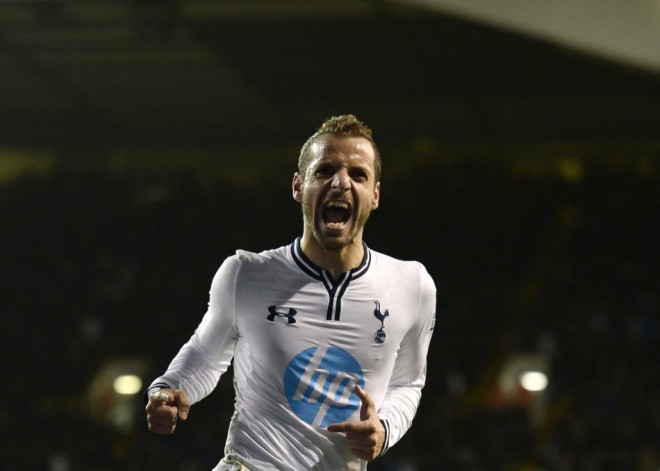 Roberto Soldado believes Tottenham Hotspur can be successful in their bid for a top four finish in the Premier League this season if they end March with maximum points.
The north London club have games against Chelsea, Arsenal and Liverpool lined up for this month among the remaining 10 games in the league. Tim Sherwood's side are currently fifth in the table with 53 points, separated by four points from their desired fourth spot and six away from the Gunners and the Reds who sit third and second respectively.
Spurs travel to Stamford Bridge for Saturday's clash against Jose Mourinho's side. The Spain international considers this as the beginning of the crucial period for his team to prove their credentials of securing a place in the Champions League next season.
"March is going to be very vital for us and as you say, it might define the season. Playing in the Champions League for a player is the top thing you can do at a club level. You only have to be standing there in the stadium and you hear that theme music and you know it's going to be an exciting game," Soldado told Sky Sports.
"The good thing about it is that we are going to be playing against a lot of our closest rivals and with victories in those key games, it means you can really close the gap on the people who are above us. It is a good period to be going through and certainly we are all going to be looking forward to it as a squad and working hard to make sure the results go our way."
The 28-year-old also expressed his delight after ending his two-month goal scoring drought by netting his sixth league goal of the season during Spurs' 1-0 victory against Cardiff City at White Hart Lane last Sunday.
"I think everyone had been really wanting me to score and trying their best for me to score, and what I am hoping now is that it's not going to be such a big gap between the next goal and this one," the Spaniard said.
"To tell you the truth, I do feel that having scored that goal, it almost frees you up as a player and I hope I'll be able to continue to score and the goal-scoring run goes on for longer this time."