Al-Shabaab militants have stormed the Somali Presidential Palace in Mogadishu with guns and grenades in what appears to have been an attempt to kill the Somali President, Hassan Sheikh Mohamud.
An official inside the palace - known locally as "Villa Somalia" - said the President was not at the palace and most of the attackers are believed dead but heavy shooting is still taking place. An Al Arabiya correspondent reported hearing at least three large explosions.
Al-Shabaab's military operations spokesman Sheikh Abdiasis Abu Musab confirmed the group carried out the attack, saying: "We have entered the so-called presidential palace. We have now captured some parts of the palace and fighting is still going on."
An official inside the palace who did not wish to be named told Reuters: "The militants have partly entered the presidential palace compound. There is periodic gunfire now. I understand most attackers have been killed. No further details."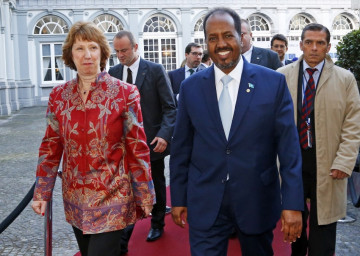 There is confusion about whether the group are still inside the Palace. Musab told AFP: "Our commandos are inside the so-called presidential office. We are in control of the headquarters of the apostate regime."
Al-Shabaab launched a similar attack on the Presidential Palace in February, when the militant terrorist group broke through a gate using a car bomb and then opening fire. 14 people are believed to have died in that attack, five soldiers, nine attackers. It is not yet know how many died in today's attack.
An Islamist group linked with al-Qaeda, Al-Shabaab - which roughly translates as The Youth - have carried out many attacks in both Somalia and neighbouring Kenya including the attack on the Westgate shopping mall in which 67 died and recent attacks on villages and people watching the World Cup.
In Somalia, the group have been pushed out of many urban areas but still control large swathes of the countryside. In May the group attacked the Somalia parliament, killing at least ten security officers with a car bomb and gunfire. The United States called that attack a "heinous act of terrorism." Last week another attack on the parliament by a suicide bomber killed three police officers and two children.