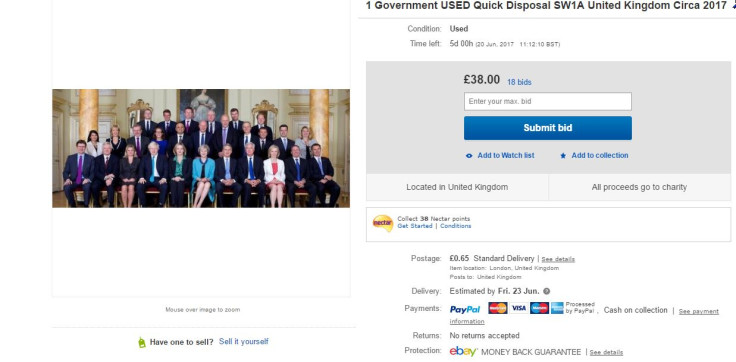 You can really find everything on Ebay, as demonstrated by this newly listed ad. The UK government is up for sale on the online auction platform and bids are still going. According to the ad, they have some "deep flaws" but "do need a good home."
User lizzymac-uk is selling one "USED" government and is eager to do so quickly, as she writes that a "new stock [is] arriving soon."
Describing the product, she advises potential bidders that the government can be used as "garden gnomes" but can also "frighten the neighbours," and should be kept away from the shade, as they "have a tendency to migrate over to the dark side."
The description goes on to mention that they repel wildlife and that "foxes hate them" in a nod to Theresa May's announcement that she would bring back fox hunting.
Bidders are expected to place their offers by 20 June,the last day of the auction. Foreign buyers are more than welcomed, as lizzymac-uk states she's "more than happy to ship them overseas."
The ad has gathered 27 bids so far, although none of them higher than £49. All profits of the sale will go to Comic Relief.
Almost a week after the General Election on 8 June, at which the Conservative Party performed worse than they expected, many voters have expressed their discontent with Theresa May's government. The Prime Minister is struggling to retain some kind of majority in the Parliament.
May's current efforts to form an alliance with the Democratic Unionist Party has drawn concerns from senior Conservatives, such as former prime ministers David Cameron and Sir John Major.
Major suggested Theresa May put an end to the deal on BBC Radio 4's World at One. The former prime minister said: "I am concerned about the deal. I am wary about it. I am dubious about it. Both for peace process reasons, but also for other reasons as well," on Tuesday.
Sir John Major was referring to the Good Friday Agreement of 1998, which states the UK and Irish administrations must demonstrate "rigorous impartiality".
On June 15, May is due to meet with Northern Ireland's five main parties at Downing Street, where they will voice their concerns about a Conservative-DUP deal.