Sinn Féin will have a chance to voice their concerns face-to-face with Theresa May over a potential Conservative/Democratic Unionist Party (DUP) power deal when they meet in Downing Street on 15 June. The party's Northern Ireland leader, Michelle O'Neill, is expected to attend the Number 10 summit.
"Northern Ireland's five main parties have been invited to Downing Street to meet with the Prime Minister tomorrow," a Downing Street spokesperson told IBTimes UK.
"The focus will be on restoring devolved government to Northern Ireland as soon as possible."
Sinn Fein, the SDLP and Alliance have maintained that Northern Ireland Secretary James Brokenshire cannot chair talks aimed at restoring the assembly since he has a conflict of interest, namely the potential pact between the DUP and the Conservatives that would allow May to stay in power with a minority government.
"I will be making it very clear that any deal between the Tories and the DUP cannot be allowed to undermine the Good Friday and subsequent agreements," O'Neill said.
The talks between the Conservatives and the DUP have been delayed as May called a cross-government meeting at the Civil Contingencies Secretariat to respond to the Grenfell Tower block fire in west London.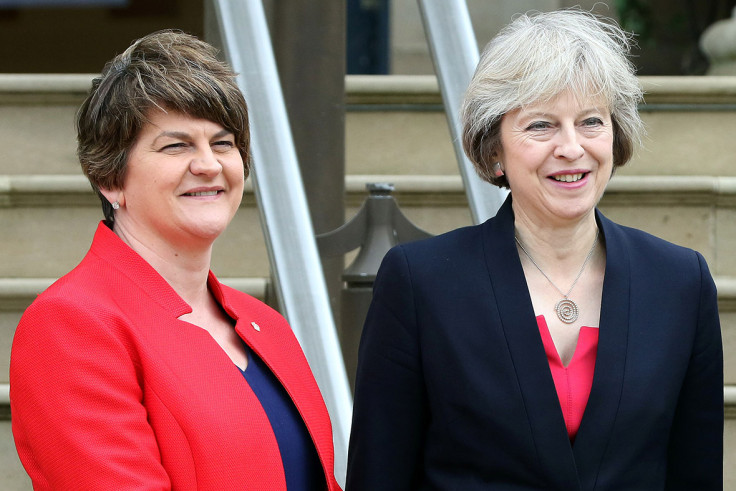 A DUP source told IBTimes UK that there had been "progress" in the negotiations, but the mood was apparently "positive". Former Conservative Prime Minister Sir John Major has urged May to drop the deal in honour of the 1998 Good Friday Agreement, which commits the UK and Irish administrations to demonstrate "rigorous impartiality".
"I am concerned about the deal. I am wary about it. I am dubious about it. Both for peace process reasons, but also for other reasons as well," the Tory grandee told BBC Radio 4's World at One show on Tuesday.
"That said, all my life I have been a Conservative, I very much want Mrs May to succeed as prime minister and to stay as prime minister and I understand why she wishes to shore up her parliamentary position.
"That is entirely understandable and I sympathise, but my main concern certainly is the peace process."