David Cameron is the latest former Conservative prime minister to make an intervention after the general election, telling Theresa May to "listen to" other parties as the UK faces a "softer" Brexit.
Cameron's comments come just a day after Sir John Major urged May to drop a potential deal between the Tories and the Democratic Unionist Party (DUP) over fears that it may destabilise the "fragile" peace process in Northern Ireland.
Cameron, who quit Number 10 in the wake of the Brexit vote at the EU referendum last year, told a business conference in Lodz, Poland, that the UK's two-year-long divorce talks with the EU were going to be "difficult".
"But perhaps an opportunity to consult more widely with the other parties on how best we can achieve it," he said, according to The Financial Times.
"Over Brexit, she is going to have to talk more widely, listen to other parties. I think there will be pressure for a softer Brexit."
Cameron noted that Scottish Conservative leader Ruth Davidson, who won 13 extra seats at the 8 June vote, could push for reforms to May's Brexit plan.
But Brexit Secretary David Davis has maintained that the election result, which left the Tories without a majority in the House of Commons, would not stop the government from seeking to split from the EU's single-market and broker a bespoke customs deal.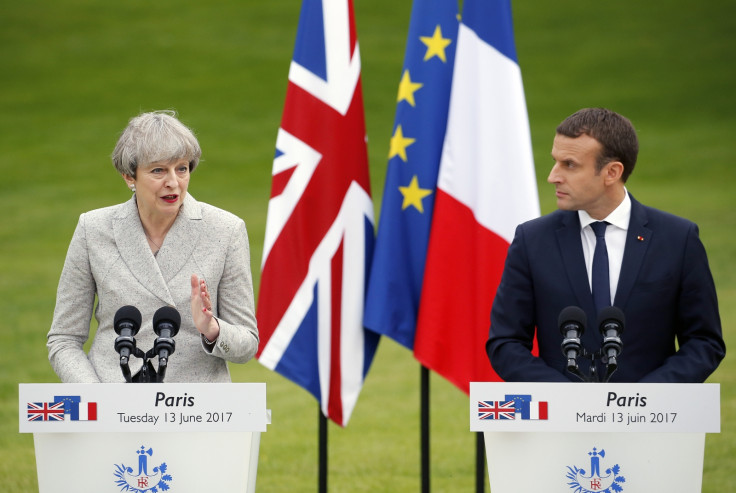 May's decision to appoint Steve Baker, the former leader of a group of backbench Eurosceptic Conservative MPs, also indicates that the prime minister will keep her so called "hard Brexit" stance.
The Tory premier, speaking at a joint press conference with French President Emmanuel Macron on Monday evening, confirmed that the Brexit talks will begin on Monday 19 June.
"On Brexit we have been very clear that we want to maintain a close relationship and a close partnership with the EU and individual member states into the future, including the areas we discussed this evening," May said.
"And I confirmed to President Macron that the timetable remains on course and will begin next week. So, thank you, Emmanuel, for our very constructive discussions this evening."
Chief EU negotiator Michel Barnier, meanwhile, has urged the UK government to get on with the talks. The Article 50 process means Britain will have to strike a deal by June 2019 or face trading with EU nations on default World Trade Organisation (WTO) tariffs.