A slide show during a press conference held by Sony Slovakia recently revealed the release details of Android Nougat software update for Sony's Xperia lineup.
According to Sony's slide presentation, Xperia X Performance and XZ would receive Google's latest Android operating system featuring version 7.0 sometime around October. The next bunch of devices that would get Nougat include the Xperia X and the X Compact around November.
All the Xperia Z5 series handsets, Z3+ and Z4 tablet, the Xperia models included in the third Android Nougat update cycle arriving in December would also get the update. Xperia XA and Ultra will receive the update early next year, shows the slide presentation, which was shared by XperiaBlog via mojAndroid.
Sony had already revealed its Android Nougat update details for its Xperia range, according to which Xperia Z3+, Z4 Tablet, Z5, Z5 Compact, Z5 Premium, X, XA, XA Ultra, X Performance, Xperia XZ and X Compact are the devices eligible to get the Nougat software update.
Almost all the devices Sony listed for the official Nougat update are mentioned in the slide, which does not add any new devices. This indicates that some of the 2015 Xperia phones such as Xperia M4 Aqua, M5, C4 and C5 Ultra might not make it to the list.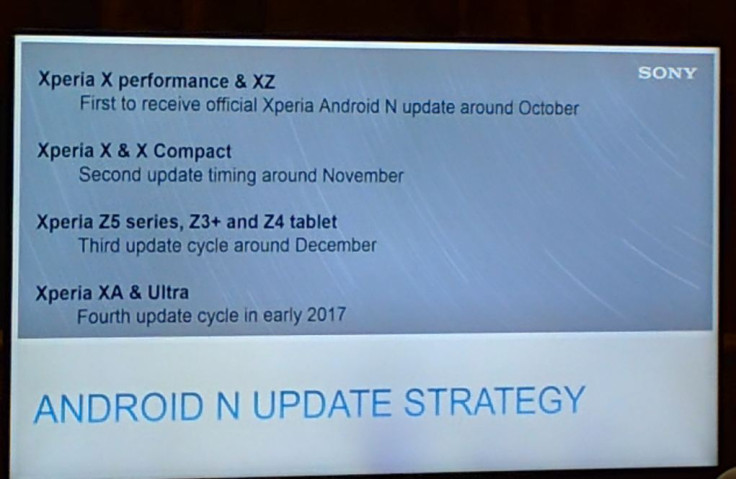 "We've been working hard to bring this major update to as many of our devices as possible, as quickly as we can. We're really excited about the new Sony features & functionality and the improvements we've made to the user experience – and we'll be sharing more soon," Sony said earlier in a statement.