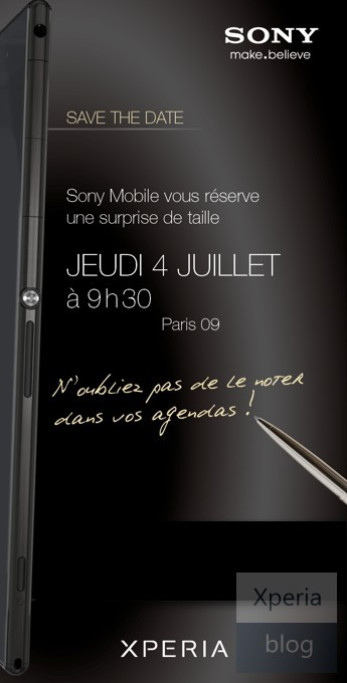 Sony's long rumoured Xperia Z Ultra is once again in the spotlight, as the company prepares for its upcoming media event in Paris on 4 July. Speculation is rife that the highly-anticipated successor to Xperia Z may be labelled as Xperia ZU, Zperia Z Ultra or Togari.
According to the latest rumours, the 6.44in smartphone reportedly shows up in a media invite sent by Sony for the Paris event. The leaked invite purportedly reveals a sleek and trendy handset with on/off button, volume rocker and a dedicated camera button on its side. Further, the image suggests that the headphone jack appears at the top, while the lanyard hole sits right at the bottom of the phone.
The French message in the invite also promises a big surprise as its English translation reads: "Sony Mobile reserves a big surprise for you". The graphic art of the handwritten text with Stylus says: "Do not forget to mark your calendars!"
It seems Sony surely doesn't want its loyal fans to miss something big at its upcoming media event. However, as Android Geeks reports, it is still uncertain that Sony will launch the Xperia Z Ultra in Paris, since the company is poised to host another event in Munich on 25 June. Earlier reports seemed to suggest that the Munich event could actually witness the unveiling of the latest Xperia handset.
Sony Xperia Z Ultra Features
Here is a quick roundup of the rumoured specifications for the device: Despite featuring a large 6.44in 1080p display, the handset sports an extremely thin profile and measures a mere 6.5mm in thickness. It is expected to be powered by the new quad-core Snapdragon 800 processor clocked at 2.2GHz and Adreno 320 GPU. It is said to ship with 2GB of RAM, 16GB of internal storage, a microSD expansion slot, an eight megapixel camera and a 2.2 megapixel front-facing camera. The handset will reportedly run on the latest Android 4.2 Jelly Bean OS and weigh 212 grams.
As the Xperia Blog notes, contrary to earlier rumours, the Xperia Z Ultra may not actually be water-resistant as the leaked Sony invite suggests its headphone jack is open with no port covering it. Given the uncertainties in the leaked specifications, the rumour should be taken with a pinch of salt.