Google Glass might be on a sabbatical, but Sony is continuing full steam ahead with its smart glasses project, as the SmartEyeglass gets a price of £624.
A version intended for developers to buy and create apps for - just like the £1,000 Google Glass Explorer Edition - Sony SmartEyeglass is available for pre-order now, ahead of going on sale in the UK, US and Germany on 10 March, 2015. The UK price is £520 plus VAT.
Projecting a user interface into the wearer's eyes, the Sony smart glasses work in a similar way to Google Glass, relaying notifications and info such as walking directions from a connected smartphone, but use a much larger frame.
The SmartEyeglass may look more like a regular pair of glasses out of context, but they are bulky compared to large traditional sunglasses, and stand out even more than the sci-fi-esque Google Glass.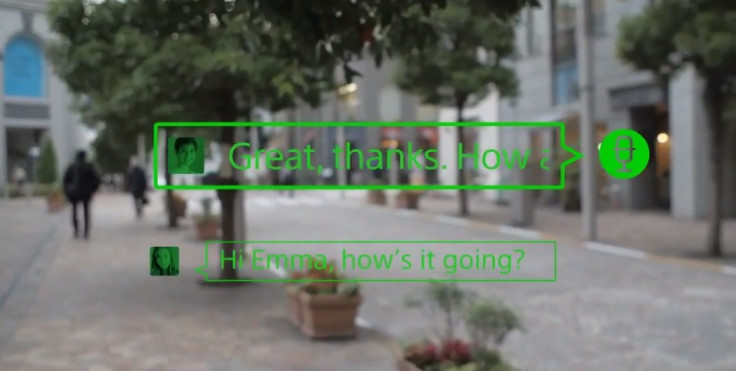 Sony claims its wearable has a battery life of 150 minutes of continuous use, or just 80 minutes when using the forward-facing 3-megapixel camera.
SmartEyeglass connects to a smartphone via Bluetooth for an internet connection. The gadget also has a controller connected by a cable, which houses a microphone and buttons to control the wearable and swipe through its menus.
Unlike the full colour screen of Google Glass, Sony's smart glasses have a monochrome, bright green display. Additionally, they do not fit over existing eyewear, so glasses wearers cannot use them without contact lenses.
Also on 10 March, Sony will begin selling its new wearable to enterprise customers in France, Italy, Spain, Belgium, the Netherlands, and Sweden to promote the development of apps geared towards industrial use.
Recognising how some of the most interesting used for Google Glass came from industry rather than the consumer market, Sony aims to equally promote the development of apps for both consumers and enterprise customers through 2015 and 2016.
To coincide with the launch, Sony will begin offering the official release of its software development kit (SDK) for SmartEyeglass, replacing a developer preview of the software handed out in September 2014.