We put together Sony's newly announced Xperia Z side-by-side with Google's fourth generation Nexus branded smartphone manufactured by LG, to help you decide which one to buy.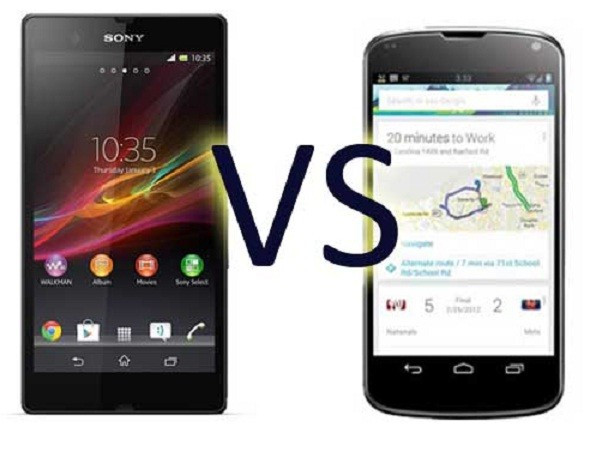 Follow all the news, reviews and rumours on our CES 2013: Live Blog
As rumoured, Sony has unveiled its flagship Android powered smartphone, Xperia Z, at the CES 2013 event. The Japanese electronics company has promised that the handset will hit the shelves globally sometime in the first quarter of this year.
Sony Xperia Z, as expected, comes with 5in full HD display, which Sony termed as 'Reality display,' powered by second generation Mobile Bravia Engine for brightness and clear viewing. The device offers 4G LTE network connectivity. It also features several applications including the Walkman, Album, Movies app and one-touch functions. The device is said to be water and dust resistant. Sony claims the handset offers water-resistance to a depth of one meter for up to 30 minutes.
Here is how Sony Xperia Z stacks up against Google's newly released Nexus 4
Xperia Z vs Nexus 4: Display
The Xperia Z features a 5in full 'HD Reality display,' which is powered by Mobile Bravia Engine 2. The resolution of the HD display measures 1080 x 1920pixels with a pixel density of 443 pixels per inch (ppi).
Sony boasts that the Reality display of Xperia Z provides 'incredibly crisp pictures and no jagged edges.' The Reality display of Xperia Z carries higher pixel density, comparatively more than the pixel density of the Retina display of Apple's iPhone 5, to offer clear viewing experience. Moreover, the second generation Mobile Bravia Engine, according to Sony, delivers better viewing and is able to analyse concept type and adjust image accordingly.
The Nexus 4, in contrast, features a 4.7in True HD IPS Plus display with resolution measuring 768 x 1280pixels and pixel density reasonably less than the Xperia Z, at 320 ppi. The display of Nexus 4 is covered by scratch-resistant Corning Gorilla Glass 2.
The HD display of Nexus 4 is supported by a unique screen technology called 'Zerogap Touch technology' to offer clear viewing. The aforementioned technology made its debut through LG's flagship smartphone, Optimus G.
The primary difference is while other touch screen features either ITO film or a glass sensor, the Zerogap Touch has an ITO sensor film printed on the glass, removing the air gap trapped between two elements. This helps in delivering better touch sensitivity while offering an immersive and rear-touch sensing experience. This technology also reduces the thickness of the display offering a slim design as well as sharp viewing, notes Digital Trends.
Xperia Z vs Nexus 4: Dimensions
In terms of physical dimension, the Xperia Z is bigger in size compared to the Nexus 4. On the other hand, the Nexus 4, with its 9.1mm thickness, is slightly thicker than Sony's new handset. As far as weight is concerned, the Xperia Z is just seven gram heavier than the Nexus 4, at 146g.
Xperia Z: 139 x 71 x 7.9mm
Nexus 4: 133.9 x 68.7 x 9.1mm
Xperia Z vs Nexus 4: Operating System
The Xperia Z will first launch with Android 4.1 (Jelly Bean). But Sony promises that the device will be upgraded to the latest Android 4.2 (Jelly Bean) shortly after the launch.
The Nexus 4 is Google's first smartphone to adopt Android 4.2, which was introduced alongside the announcement of the new Nexus devices.
The latest version of Jelly Bean software brings several goodies, including Gesture Typing, which allows users to glide fingers over the letters they want to type on the keyboard, increasing the typing speed.
The Android 4.2 adds support for wireless display, which enables users to share movies, YouTube videos and other videos and images on their TVs. Other key features include Daydream, enhanced Google Now, Google Search and Android Beam.
Unfortunately, a few bugs were spotted in the Android 4.2 software, including the missing month of December in the People app. Google released an incremental update, Android 4.2.1 (JOP40D), fixing the issues, which include the Bluetooth bug and slow camera app rotation.
Xperia Z vs Nexus 4: Processor
Interestingly, both Google's and Sony flagship smartphones are powered by Qualcomm Snapdragon S4 Pro (APQ8064) chip featuring a quad-core Krait processor with each core running at clock speeds up to 1.5GHz, and paired with Adreno 320 graphics unit.
Furthermore, both the handsets have 2GB of RAM.
The Snapdragon S4 Pro quad, which has been benchmarked to be a powerful processor, was first introduced in the Mobile Development Platform (MDP/T) for Android tablet, a device exclusively designed for developers and manufacturers.
Xperia Z vs Nexus 4: Camera
The Xperia Z features a high resolution 13 megapixel rear camera with Exmor RS for mobile image sensor, which is claimed to be the first image sensor with HDR (High Dynamic Range) video for smartphones. HDR, as Sony notes, is an imaging technology used to capture clear photo against strong backlight.
The other camera technologies include auto-focus, Burst Mode, face detection, image stabilisation, geo-tagging, smile detection, sweep panorama, touch focus and many more. The rear camera is capable of capturing 1080p video.
The handset also has a secondary camera of 2.2 megapixel, which can record 1080p video.
The Nexus 4, unlike the Xperia Z, has eight megapixel rear-camera with technologies including auto-focus, LED flash, touch-focus, geo-tagging, face detection. The camera can record video in 1080p at 30 frames per second (fps).
The Android 4.2 brings a new camera app for Nexus 4 called as Photo Sphere. This feature allows users to capture photos (larger in size) in every direction. In addition users can share their photos on Google+ and can add Photo Sphere to Google Maps. The handset also has a 1.3 megapixel HD front-camera.
Xperia Z vs Nexus 4: Connectivity
In terms of connectivity, the Xperia Z offers Wi-Fi 802.11 b/g/n, Wi-Fi Direct, DLNA, Wi-Fi hotspot and Bluetooth v4.0 with A2DP. The device offers HSPA data speed.
The Nexus 4 offers Wi-Fi 802.11 a/b/g/n, dual-band, DLNA, Wi-Fi hotspot, Bluetooth v4.0 with A2DP. It supports data speed HSDPA up to 21Mbps and HSUPA up to 5.76Mbps. Moreover, Google confirmed earlier that the T-Mobile users can enjoy Nexus 4 with HSPA+ 42.
Both Xperia Z and Nexus 4 are Near Field Communication (NFC) enabled handsets. While Xperia Z is capable of connecting 4G LTE network, the Nexus 4 supports only 3G.
Xperia Z vs Nexus 4: Storage
The Xperia Z will come with 16GB storage option and will support microSD card for additional space up to 32GB.
The Nexus 4 is available in two storage variants: 8GB and 16GB. Unfortunately, the device does not support microSD card for additional storage.
Xperia Z vs Nexus 4: Battery
Sony has not provided any details about the power of the battery but it claims that the battery will deliver a talk time up to 11 hours and standby time up to 550 hours. In addition to this, Sony has introduced a feature known as Battery STAMINA mode which can improve the standby time by four times by automatically closing power hungry apps whenever the screen is off and starting them up again when the screen is turned on.
The Nexus 4 runs with a powerful battery of 2100mAh. Google boasts that the battery delivers talk time for more than 15 hours and standby for 390 hours.
Xperia Z vs Nexus 4: Price
Sony is yet to reveal the pricing details of its Xperia Z. Talking about the pricing of the Nexus 4, the 8GB model costs £239 and the 16GB model is priced at £279.