Sony's new flagship smartphone, Xperia Z, which was announced in January at the international CES trade show in Las Vegas, has already entered the UK smartphone market. Followed by Sony's official announcement, the Taiwanese tech major unveiled its flagship device HTC One last month in New York. The handset is expected to be available in the UK from 15 March.
IBTimes UK brings you a detailed comparison of the HTC One and Sony Xperia Z to help you decide between the two.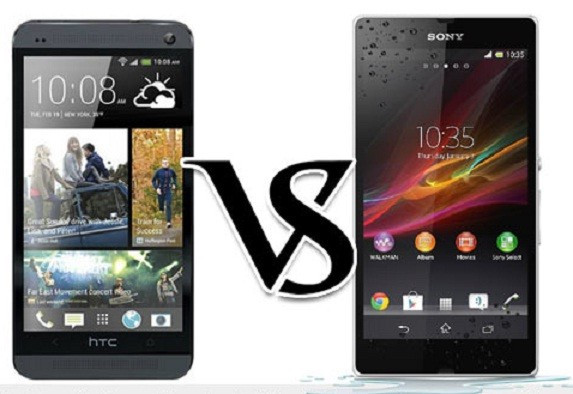 Here is how the Sony Xperia Z does against the HTC One:
Xperia Z v HTC One: Display
Sony Xperia Z features a larger 5in display in contrast to the 4.7in display of HTC One. Both the handsets have similar screen resolution, at 1920 x 1080 pixels. But the HTC One sports more number of pixels featuring a pixel density of 468 pixels per inch (ppi) against the pixel density of Xperia Z at 443 ppi.
The full HD Reality display of Xperia Z is powered by second generation Mobile Bravia Engine which promises to deliver better viewing experience by adding real-time contrast optimisation to the sharpness enhancement, colour management and noise reduction. The Mobile Bravia Engine 2, according to Sony, can analyse content type and adjust images accordingly.
The HTC One, featuring a full HD display, is covered with Corning Gorilla Glass 2. The device is crafted in zero-gap aluminium unibody which means there are no seams on the phone. The 4.7in screen of HTC One is very much similar to that of the Galaxy S3 and feels comfortable to use with one hand.
Xperia Z v HTC One: Dimensions
The Xperia Z is slightly larger and wider compared to HTC's new handset. But the Xperia Z is quite thinner featuring a thickness of 7.9mm. In terms of weight, the Xperia Z is only three grams heavier than the HTC One, weighing 146g.
Xperia Z: 139 x 71 x 7.9mm
HTC One: 137.4 x 68.2 x 9.3mm
Xperia Z v HTC One: Operating System
The HTC One will run on Android 4.1.2 (Jelly Bean) with the new HTC Sense 5.0 user interface (UI). There is no official word on when the device is scheduled to receive the latest version of Jelly Bean software.
The Xperia Z was first launched with Android 4.1 (Jelly Bean). But Sony promises the device will be upgraded to the latest Android 4.2 shortly after release.
Google introduced the latest Android operating system v4.1 at its I/O conference held in June last year. Android 4.1 brings an array of stated improvements, such as revamped User Interface (UI), a better notifications system and home screen management, an improved voice search, text input with offline voice typing, camera and enhanced Android Beam app.
The current Android 4.2 software version, which the Sony Xperia Z will be upgraded with, marks a significant improvement over Android 4.1.
Android 4.2 bundles several new features including Gesture Typing which allows users to glide fingers over the letters they want to type on the keyboard while increasing the typing speed. The operating system (OS) adds support for wireless display which enables users to share movies, YouTube videos and other videos and images on their TVs. Other key features include Daydream, enhanced Google Now, Google Search and Android Beam.
The Android 4.2 also carries a new camera feature called Photo Sphere enabling users to capture images in all directions. Users can share their photos on Google+ and add Photo Sphere to Google Maps.
Xperia Z v HTC One: Processor and RAM
The Sony flagship smartphone is powered by Qualcomm Snapdragon S4 Pro (APQ8064) chip featuring a quad-core Krait processor with each core running at clock speeds up to 1.5GHz, while paired with Adreno 320 graphics unit.
The Snapdragon S4 Pro quad, benchmarked to be a powerful processor, was first adopted in the Mobile Development Platform (MDP/T) for Android tablet.
The HTC One also uses Qualcomm's Snapdragon 600 chip featuring a quad-core krait 300 processor with each core running at clock speeds up to 1.7GHz. The chipset integrates Adreno 320 graphics unit.
The Snapdragon 600 quad-core processor, said to be the first to offer four 1.7GHz Krait CPU cores, has proved to be an equally powerful processor in benchmarks.
Both Sony and HTC's smartphones have 2GB of RAM.
Xperia Z v HTC One: Camera
The Xperia Z has a high resolution 13 megapixel rear camera with Exmor RS for mobile image sensor which is believed to be the first image sensor with HDR (High Dynamic Range) video for smartphones. The HDR imaging technology is used to capture clear photo against strong backlight.
Some of the significant camera features include auto-focus, Burst Mode, face detection, image stabilisation, geo-tagging, smile detection, sweep panorama and touch focus. The handset also has a secondary camera of 2.2 megapixel. Both the cameras are capable of recording 1080p video.
The HTC One has a four megapixel 'UltraPixel' camera incorporating advanced imaging technology. The UltraPixel camera sensor promises to gather 300 per cent more light compared to the regular smartphone camera sensors. This new camera technology allows users to quickly capture colourful photos even in low-light conditions.
The UltraPixel camera technology brings several other improvements. It adds a new camera feature called HTC Zoe which allows users to automatically record action both before as well as after the shutter button is pressed.
The HTC One also has a 2.1 megapixel front-camera featuring wide angle lens with HDR capability. Both the front and rear cameras can capture 1080p full HD video.
Xperia Z v HTC One: Connectivity
The HTC One offers Wi-Fi 802.11 a/ac/b/g/n, Wi-Fi Direct, DLNA, Wi-Fi hotspot and Bluetooth v4.0 with A2DP.
The Xperia Z, like the HTC One, supports Wi-Fi 802.11 a/b/g/n, Wi-Fi Direct, DLNA, Wi-Fi hotspot and Bluetooth v4.0 with A2DP. Both the Xpera Z and the HTC One are Near Field Communication (NFC) enabled devices and support 4G network speeds.
Xperia Z v HTC One: Storage
The Xperia Z comes in a single storage variant, at 16GB but the HTC One will be available in two storage options, 32GB and 64GB. The major difference in terms of storage capacity is the Xperia Z supports microSD card for additional space whereas the HTC One does not.
Xperia Z v HTC One: Battery
The Xperia Z runs with a 2330mAh powered battery, which according to battery tests, delivers 16 hours and three minutes of talk time, five hours and 39 minutes of video playback, six hours and 37 minutes of web browsing. The Xperia Z can last up to 48 hours in a single charge.
The Xperia Z carries a new feature known as Battery STAMINA mode, which reportedly improves the standby time up to four times by automatically closing power hungry apps whenever the screen is off and starting them up again when the screen is turned on.
The HTC One uses a 2300mAh battery.
Xperia Z v HTC One: Price
The 32GB HTC One is £12 costlier than the 16GB Xperia Z which is available at £498. At present there is no information on the retail price of the 64GB HTC One.