Rumours of an impending Android 4.4.3 KitKat release on supported devices starting with Google's Nexus devices are gaining momentum, as freshly leaked Bluetooth SIG certification for Sony Z Ultra Google Play Edition (GPE) points to Android 4.4.3 KitKat with build KTU72 running on the device.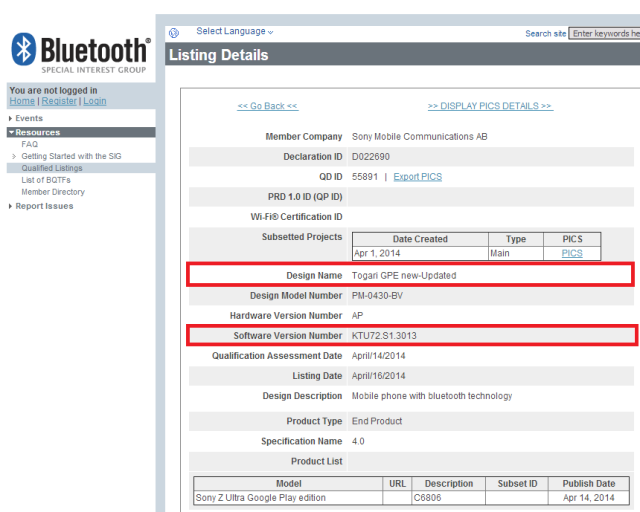 The Xperia Z Ultra GPE has reportedly been spotted running the software version "KTU72.S1.3013" on Google Play Store which is an Android 4.4.3 specific build released as part of the certification for Edu Device Setup app.
According to Xperia Blog, the leaked Android 4.4.3 KitKat build KTU72 is codenamed "Togari GPE" wherein Togari refers to Z Ultra's codename.
There is still no official word from Sony about the release date for the latest KiKat update on supported devices including the Sony Xperia Z Ultra (Google Play Edition).
However, the leaked Bluetooth SIG certification hints that the update could roll out soon following its release on Nexus devices.
There is some good news for non-Nexus devices as Google has reportedly updated the changelog for the Edu Device Setup app, wherein the "What's new" section of the app cites that the new update brings support for Android 4.4.3 and non-Nexus tablets, according to Android Geeks.
In related news, Sprint had recently announced that the Android 4.4.3 KitKat update will be arriving shortly on the Nexus 5 variant. However, the mobile carrier is silent about the release ever since the announcement and no further progress has been made.
The first hint of Android 4.4.3 update in the making surfaced online in the form of a camera bug-fix for the Nexus 5, while subsequent rumours have suggested that the update will be rolling out for all supported devices including Nexus 4, Nexus 7, Nexus 7 (2013), Nexus 10 and Google Play Edition devices.