The compact version of the Sony Xperia Z1 is all set to hit the market, with pre-order already started. IBTimes UK brings you a detailed features comparison of the Xperia Z1 Compact and HTC's One Mini.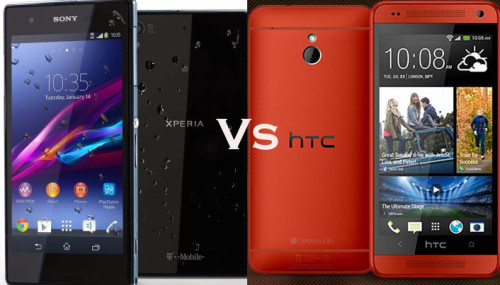 Xperia Z1 Compact vs One Mini: Display
In keeping with the trend, the mini version of handsets by Sony and HTC feature 4.3 in display with HD resolution at 1280 x 720 pixels, giving a pixel density at 342 pixels per inch (ppi).
As for the screen technology, the Xperia Z1 Compact is built with the latest Sony BRAVIA, optiomised for mobile to deliver a clear viewing experience.
The Xperia Z1 Compact's screen looks sharp, colourful and vibrant. It includes Sony's Bravia TV division called Triluminos, which enhances its overall colour saturation, colour accuracy and contrast. As a result, photos and videos look better on the 4.3in display, according to a review by the Guardian
The 4.3 HD Triluminos display technology, as Sony notes, creates natural colour shades and delivers a significantly wider colour range while providing a natural and vivid viewing experience.
The Super LCD2 screen of the HTC One Mini does not match the flagship, HTC One, in terms of resolution and pixel density (at 1080 x 1920 pixels, 469 ppi), but colour reproduction of the One Mini's screen is accurate and not over-saturated as seen on ALOMED screens used on Samsung's Galaxy S series handsets. Besides, the mini handset offers quite a good viewing angle and light leakage is minimal, although the panel is pretty reflective, according to a review by IBTimes UK.
Xperia Z1 Compact vs One Mini: Dimensions
The One Mini, in terms of dimension, is slightly taller than the Xperia Z1 Compact. But there is a marginal difference in the breadth and thickness of two smartphones. Also, the Z1 Compact is just 15g heavier than the One Mini, which weighs 122g.
Given the 4.3in screen size, both the One Mini and the Z1 Compact are pocket-friendly, quite handy and easy to operate with one hand.
Featuring Sony's OmniBalance design, the Z1 Compact is built with a one-piece aluminium frame and a seamless body. Sony's new handset, incorporating an impressive IP rating at IP55/IP58, is both waterproof and resistant to dust particles.
With the waterproof Xperia Z1 Compact, users can take photos while swimming up to 30 minutes and dive up to 1.5 metres. [All the covers for the micro USB port, the micro SIM slot and memory card slot must be firmly closed.]
One of the attractive features of the HTC One Mini is its premium construction and design. The One Mini with a curved back is comfortable to hold for a long time. The HTC One has an aluminium design, but the One Mini has a glossy plastic frame. There is no flex on the mini handset.
Sony Xperia Z1 Compact - 127 x 64.9 x 9.5 mm
HTC One Mini - 132 x 63.2 x 9.25mm
Xperia Z1 Compact vs One Mini: Operating system
The Xperia Z1 Compact will run the latest version of Jelly Bean, Android 4.3 while the One Mini was launched with a slightly older Android version, 4.2.2 with Sense 5 user interface.
As of now, there is no official word as to when the Xperia Z1 will get Android KitKat treatment, whereas the One Mini has been rumoured to get the latest version of Android KitKat, 4.4.2 soon. This piece of information comes from a leaked HTC roadmap shared by renowned Twitter leakstar, LlabTooFeR. According to the leak, the Android 4.4.2 with Sense UI v5.5 is under testing and will be released for One Mini users sometime between late January and mid-February.
The new Android software is expected to bring several KitKat goodies and system improvements along with a boost in performance for the One Mini.
Xperia Z1 Compact vs One Mini: Processor and RAM
The One Mini uses the Snapdragon 400 chip featuring a dual-core processor, running at clock speeds up to 1.4GHz while paired with Adreno 305 graphics unit.
The Xperia Z1 Compact, on the contrary, is powered by the new Snapdragon 800, featuring a quad-core processor with each core fixed at clock speeds up to 2.2GHz. The quad-core processor also integrates an Adreno 330 graphics unit, which delivers 50% increased graphics performance compared to the previous Adreno 320, and gives advanced 3D gaming experience as well as fast browsing while consuming less power.
The advanced Snapdragon 800quad-core processor is 75% faster when compared to Snapdragon S4 Pro and gives maximum power and speed with a longer battery life. The processor is believed to be capable of running multiple apps simultaneously, surfing the web with little loading time and streaming videos without a break.
The Z1 Compact has 2GB RAM while the One Mini packs 1GBRAM.
Xperia Z1 Compact vs One Mini: Camera
The One Mini inherits the four megapixel UltraPixel camera sensor incorporating advanced imaging technology of the HTC One. The UltraPixel camera sensor, which captures 300% more light than the traditional smartphone camera sensors, captures photos in incredible detail and enhanced dynamic range, even in low light conditions.
The UltraPixel camera also adds HTC Zeo, a camera feature that allows capture of four or five full resolution still images per second while recording three seconds of 1080p video. The rear-camera can record 1080p full HD video with HDR video. Other camera features include Gallery with Video Higlights and HTC share, continuous shooting and VideoPic and slow motion video recording with variable speed playback.
The One Mini also has a 1.6 megapixel front-camera with BSI sensor, which can capture 720p video.
The Xperia Z1 Compact, Sony's new camera smartphone, packs a 20.7 megapixel Exmor RS for mobile image sensor, the company's award-winning G Lens and BIONZ for mobile processing engine. The image sensor, as Sony explains, captures more light from each scene to create ultra-high definition images. The sensor also enables higher sensitivity that decreases noise to ensure smooth, clear reproduction with more details. The Z1 Compact's camera has a 27mm wide angle and bright F2.0 lens which allows capture of more light in low-light conditions.
The Z1 Compact has a two megapixel front-camera. Both primary and secondary cameras are capable of 1080p video recording.
The Z1 Compact comes pre-loaded with a range of innovative Xperia Camera apps such as Timeshift burst, Info-eye, Social live and AR effect. Along with these pre-installed social camera apps, there are extra apps including Wikitude Places, Evernote, VI Sports and more.
Head over to the camera viewfinder, turn on Superior Auto and then click on +Apps to see all the latest apps. A few other camera features include Burst mode, image stabiliser, object tracking, scene recognition, smile shutter, sweep panorama, touch focus, touch capture, white balance and face detection.
Xperia Z1 Compact vs One Mini: Connectivity
The One Mini offers Wi-Fi 802.11 a/b/g/n, dual-band, DLNA for wirelessly streaming media from the phone to a compatible TV or computer, Bluetooth v4.0 with A2DP.
The Xperia Z1 Compact also offers Wi-Fi 802.11 a/b/g/n/ac, Wi-Fi Direct, DLNA, Wi-Fi hotspot Bluetooth 4.0 with A2DP and NFC. Additionally, both handsets support 4G LTE network speeds.
Xperia Z1 Compact vs One Mini: Storage
Both the One Mini and the Z1 Compact offer an internal storage of 16GB. But the primary difference in terms of storage feature is Sony's smartphone supports microSD card for additional space up to 64GB whereas HTC's mini handset does not.
Xperia Z1 Compact vs One Mini: Battery
The Xperia Z1 Compact stores about 500mAh more power than the One Mini, which uses an 1800mAh battery. The 2300mAh battery inside the Xperia Z1 Compact is expected to deliver a claimed talk time of up to 18 hours, standby up to 670 hours, music listening time up to 94 hours and video playback up to 12 hours.
Besides, the smartphone features Sony's unique power management feature - Battery STAMINA, which improves standby time by four times by automatically closing power-hungry apps whenever the screen is off and starting them up again when the screen is turned on.
According to battery tests, the One Mini offers a talktime of a little more than 12 hours, web browsing of more than eight hours and video playback for seven hours and 23 minutes. The One Mini scored 40 hours in the endurance rating, which means the smartphone can run for 40 hours on a single charge with one hour each for calling, internet use and video playback.
Xperia Z1 Compact vs One Mini: Price
The Xperia Z1 Compact is just £66 more than the One Mini, which costs £333 including VAT at Clove UK. [The prices for both the handsets are based on Clove UK retail pricing]. The Z1 Compact is on pre-order at several retailers. Click here to know more about the Xperia Z1 Compact pre-orders.