Sony has unofficially confirmed the launch of Xperia Z4 Tablet ahead of its unveiling at Mobile World Congress (MWC) in Barcelona, as a freshly leaked screenshot appears on the official Xperia Lounge application for a brief moment, according to Xperia Blog.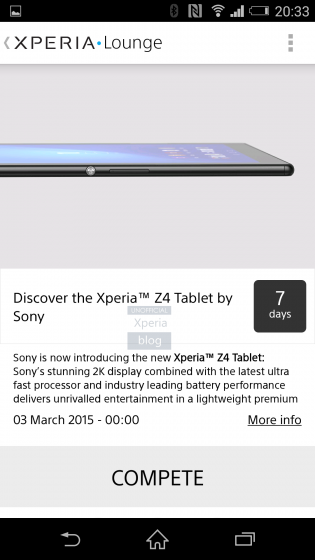 Though there are scarce details about the tablet's specifications, the screenshot clearly confirms that the device will come with a 2K screen and feature "the latest ultra fast processor", besides delivering the "industry leading battery performance".
With its design aesthetics borrowed from the Xperia Z3 Tablet Compact, it is almost certain that the Z4 tablet will be a 10in version with 2K screen.
The leaked screenshot further suggests that the tablet will be unveiled on 3 March at MWC.
At the moment, there are no other details available about the tablet's hardware features or pricing.
However, it is likely the tablet will feature the same build quality seen across other Sony devices, and feature an extremely slim profile.