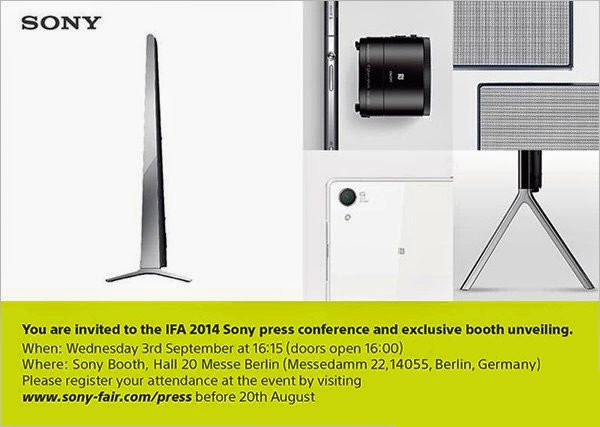 Sony is expected to officially unveil a handful of new products including a couple of smartphones and a tablet in the Xperia Z3 series along with an all-in-one PC and a new lens-style camera at the IFA press event on 3 September in Berlin, according to a newly- leaked Sony invite via ePrice.
The leaked invite clearly depicts the rear of a smartphone which is touted to be the highly-rumoured Xperia Z3, while some sources are suggesting the arrival of Z3 compact along with the Xperia Z3 at the expo.
The other leaked components in the invite reveal parts of a lens-style camera, the side of a smartphone, a tablet stand and a mesh cover.
The attachable camera lens is said to be based on older QX10 and QX100 camera devices with a built-in sensor (a 1/2.3in for the QX10 and a 1in sensor from the RX100 Mark II point and shoot for the QX100).
Speculation on the launch of Xperia Tablet Z3 is strengthened by the fact that Sony had launched the Xperia Z1 at a similar IFA event in 2013.
The Xperia Z3 would be Sony's answer to Samsung's highly-anticipated Galaxy Note 4 launch at the UNPACKED event as was the case last year.
Given the fact that Sony releases at least two flagships every year and since the Xperia Z2 was launched about five months ago, the Xperia Z3 is quite likely to be unveiled at Sony's press conference on 3 September between 4:15pm and 5:00pm CET.
The Xperia Z3 is expected to feature a quad-core Snapdragon 801 or Snapdragon 805 processor unit, 3GB of RAM, 32GB of internal storage and a microSD expansion slot.
The Z3 will reportedly feature a 5.1in Full HD (1920 x 1080 pixel resolution) display and include the same 20.7-megapixel rear camera that is found on Xperia Z2.
The Z3 is touted to run Android 4.4.4 KitKat out of the box.