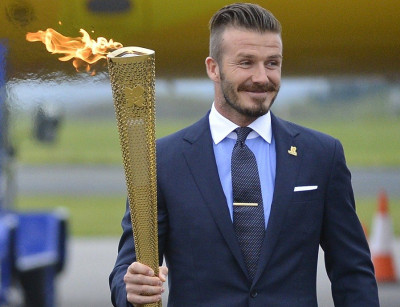 David Beckman has been voted the world's sexiest man in a suit.
The former England captain beat dapper dandies including George Clooney and Gary Barlow to be crowned king of tailored gents.
Beckham, 37, walked away with the accolade after bagging the most votes in a survey conducted by gentlemen's outfitters Austin Reed.
The poll of 2,000 people was organised to mark the launch of the chain's Suit Swap campaign with the mental health charity Mind.
As part of the initiative, customers are encouraged to donate old suits to the charity in return for £50 towards a new Austin Reed suit.
A company spokesman said: "Undoubtedly David Beckham is one of the most stylish men to grace the planet.
"His allure is that he can pull off the casual scruffy look but transform himself to a dashing gent when he dons a sharp suit."
George Clooney was voted the second best dressed in a suit followed by Bond star Daniel Craig.
Take That frontman Gary Barlow and Hugh Grant ranked fourth and fifth respectively.
IBTIMES UK takes a closer look at a few of the suited and booted stars who made the list.
TOP 20 SEXIEST MEN IN SUITS

1. David Beckham
2. George Clooney
3. Daniel Craig
4. Gary Barlow
5. Hugh Grant
6. Jenson Button
7. Prince Harry
8. Prince William
9. Lewis Hamilton
10. Robert Pattinson
11. Rupert Penry Jones
12. Benedict Cumberbatch
13. Dermot O'Leary
14. Jude Law
15. Clive Owen
16. Orlando Bloom
17. Mark Wright
18. David Walliams
19. George Lamb
20. Simon Cowell