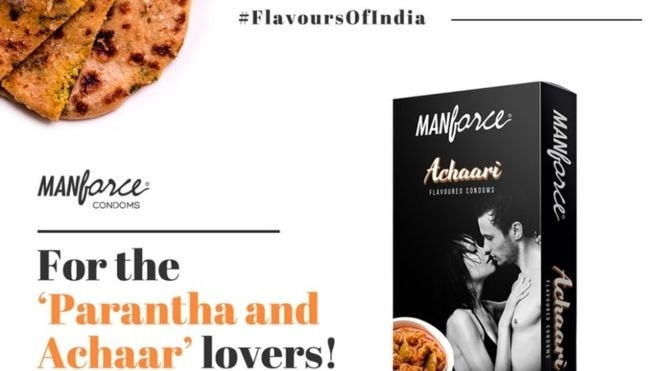 An Indian company has launched a pickle-flavoured condom, picking on a preservative that has a special, if unromantic, place in the country's cuisine.
Manforce, which claims to be India's largest selling condom brand, launches the flavour into an already crowded novelty condom market.
Durex, owned by British household goods giant Reckitt Benckiser, has an aubergine-flavoured offering on the shelves in India.
Other manufactures market garlic, bacon and scotch flavours.
And Manforce already sells condoms in jasmine, coffee, hazelnut and chocolate variants.
But many think Manforce has made a brave move with the pickle, or 'achaari', as every region has its own variant, and with the preservative synonymous with home cooking by a family's mother or grandmother.
"Such campaigns are mostly so that companies can make the news and draw attention to their business," Sunil Lulla, the head of Grey ad agency, told the BBC, adding that only the company would be able to say if these gimmicks actually translated into sales.
Vegetarian options
"However if it is spicing up sexual enjoyment and conversation around safe sex in India, then such efforts should be encouraged."
Indian columnist Rajyasree Sen added: "I think Manforce has been very smart about this and it shows they know their audience.
"But the million dollar question is, what pickle are they talking about? Lime? Chilli? How do they know the flavour they are using will appeal to every Indian?"
Indian feminist website Vagabomb asked "Is the recipe for this achaara secret passed down from your mother?" and "Are there going to be separate varieties of achaar? Vegetarian and non-vegetarian options?"