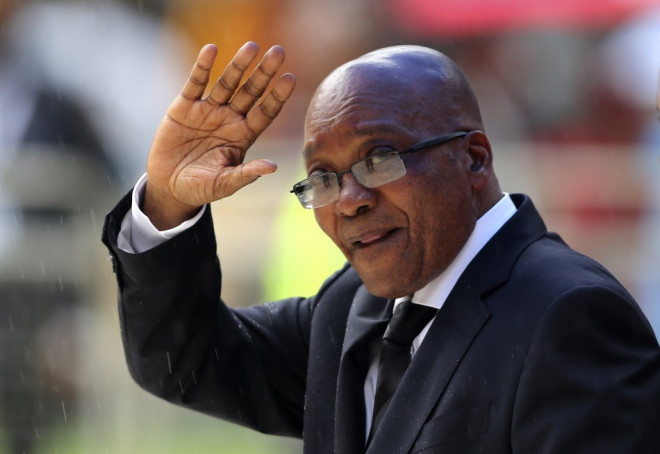 South Africa unites to mark the 20th anniversary of its first ever multiracial democratic election, which ended decades of racial oppression under the apartheid system.
A series of celebrations are taking place on Sunday to mark the historic 27 April 1994 election, when 22 million people voted for Nelson Mandela to become the nation's first black president.
The day, which has been designated Freedom Day, is being marked by street parades, prayers, military salutes, music and displays.
President Jacob Zuma led the main festivities at the Union Buildings, the seat of government in Pretoria, and listed some of the achievements the ANC-led government has accomplished since achieving power, including gains in health, education and women's rights.
"Today marks exactly twenty years since the dawn of freedom and democracy in our country," he said in a speech.
"The first and historic democratic elections that were held on 27 April 1994 decisively marked the end of over three hundred years of colonial and white minority rule.
"We gained equal citizenship in the land of our birth. We gained the rights to life, equality, freedom of movement, speech and association, worker rights, children's rights and women's rights."
Zuma added that most importantly, 1994 ushered in "a new hope" for all South Africans and a chance for the nation to be "a better country than it had ever been".
Gains and losses in 20 years of democracy
The South African leader also paid tribute to iconic anti-apartheid leader Nelson Mandela, who died in December, as well as other anti-apartheid activists including Oliver Tambo, Walter Sisulu and Dorothy Nyembe, who paid personal sacrifices in the fight for democracy.
Two decades on from the official end of state-sanctioned racial segregation, a day Apartheid's last president FW de Klerk described as "our proudest moment as South Africans", the country has made important strides.
It boasts one of the strongest constitutions in the world, increased life expectancies for people living with HIV/Aids and legal protection of gay rights.
However, the ANC-led administration has been accused of mismanagement and corruption. South Africa's anti-graft ombudsman alleged that Zuma benefitted from 215m rand in state funds to renovate his private home with extravagant luxuries including a swimming pool and an amphitheatre.
Nobel peace laureate Desmond Tutu, who has been described as South Africa's "moral conscience", has been one of the ANC's most-high profile critics and has publicly vowed not to vote for the party in the upcoming elections which will take place on 7 May.