South Africa: Marikana miners shot dead by police 'were killers' says President Jacob Zuma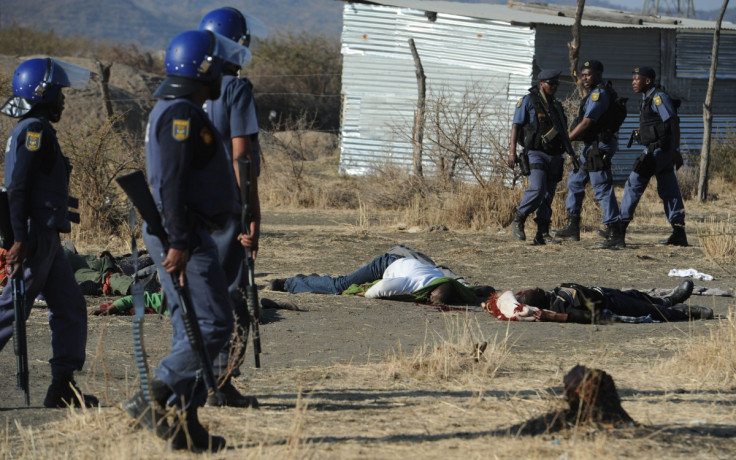 South Africa's President Jacob Zuma has defined some miners who were killed in the controversial 2012 Marikana massacre as "killers".
Marikana massacre
The protest started on 3 August 2012 when around 3,000 miners walked off their workplace at the Marikana platinum mine and started striking. At least two people were allegedly killed by the National Union of Mineworkers (NUM) and another nine were killed in the following days. It is still not known who killed these people.
Violence escalated on 16 August, when police opened fire on a group of protesters, killing 34 and injuring 78.
In the aftermath of what has been dubbed the "Marikana massacre", police said that they opened fire after miners had refused to disarm and allegedly attacked the officers. According to some witnesses and journalists who were present at the scene, police opened fire only after one protester shot a bullet.
Witnesses also said that some protesters were shot after being cornered and others died after being crushed by police vehicles.
In the aftermath of the massacre, some of the wives of the killed miners staged protests and denied that their husbands had opened fire first.
Some 270 miners were arrested and charged with murdering 34 of their colleagues - even though videos proved they were killed by police.
The defendants are to be tried under the "common purpose" doctrine, whereby people participating in a criminal activity can be charged for all the consequences of this activity.
34 platinum miners were shot by police during strikes and protests demanding pay rises.
The Farlam Commission of Inquiry's report into the killings is scheduled to be published on 30 June.
Zuma made the remarks while he addressed students at the Tshwane University of Technology (TUT).
"Even the Marikana miners were shot after killing people," he said, referring to the miners killed during the 16 August massacre.
"Those people in Marikana had killed people and the police were stopping them ... that's what you must understand."
Students and university staff members criticised him for having spoken about the issue ahead of the report.
A lecturer who spoke under conditions of anonymity said: "Zuma was not supposed to have spoken about Marikana. It's an insult to both the families of the (slain) miners and the students."
Attorney Andries Nkome, who represented some families of the victims, said that Zuma's attitude "is one of contempt."
The families of the injured and killed miners had initially written to the president, urging him to release the Farlam report. The North Gauteng High Court ruled that the president should release the report on 30 June.
© Copyright IBTimes 2023. All rights reserved.