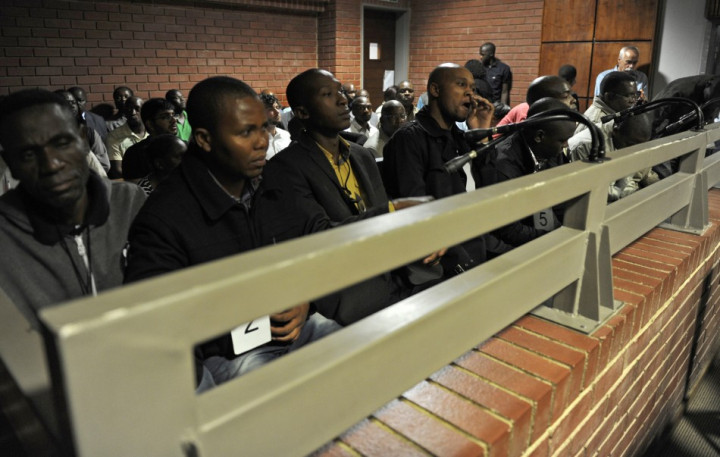 The Mozambican taxi driver dragged to his death by police in South Africa pulled a gun on officers before he was arrested, a court has heard.
Officers accused of murdering 27-year-old Mido Macia also claimed they were bombarded with missiles from onlookers, while the policeman who dragged Macia away insisted he did not know the victim was handcuffed to his car.
The evidence was heard at Benoni Magistrate's Court during the bail hearing of the nine officers accused of murdering Macia, 27, in the Johannesburg suburbs last month.
Macia was arrested in the suburb of Daveyton after a row with police officers, who had accused him of blocking the road with his car.
"I asked him to move and he insulted me and told me I am a 'useless cop,'" Officer Thamsanqa Ncema's affidavit read.
According to the statement read out by Ncema's lawyer Elias Tshole, Macia grabbed another policemen's gun and pointed it at them before handing it back.
Macia resisted being forced into the back of the police van and after a prolonged scuffle involving a number of officers, footage taken by bystanders gathered at the scene showed him tied to the back of the vehicle, which was then driven off.
Officer Bongumusa Mdluli, 25, told the court that onlookers were throwing objects at them. The police van's driver, Lungisa Ewababa, 31, said he drove away when the vehicle window was smashed, and didn't realise a man was tied behind the van until a colleague told him so.
They then put Macia inside the van and took him to a local police station. There the taxi driver was beaten up, according South Africa's Daily Sun newspaper, which first posted the video online.
Macia's body was found in a cell by another policeman a few hours after the arrest.
According to a post mortem examination he had died of head injuries and internal bleeding.
"I was caught by surprise to be told that the person had died, as he has never complained about any injuries," Ncema said in his affidavit, according to Sapa news agency.
Ncema, Mdluli and Ewababa are facing murder charges along with Meshack Malele, 45, Motome Walter Ramatlou, 37, Percy Mnisi, 26, Sipho Ngobeni, 30, Bongani Kolisi, 27, and Linda Sololo, 56.
They all appeared in court for their bail application but a decision was postponed until Monday.
Protesters demonstrated outside the court against police brutality during the hearing, and demanded for bail to be refused.
Authorities had initially arrested eight policemen in connection to the case. However a ninth officer, who took sick leave after the incident, turned himself in just before the hearing.
Although the case triggered widespread outrage, President Jacob Zuma has rebuffed growing accusations that South Africa is a violent country.