Violent protests have erupted around Pretoria, South Africa. Demonstrators burned buses and trucks and barricaded roads in protest at the ruling African National Congress' (ANC) decision to choose senior party member Angela Thoko Didiza as mayoral candidate in August's local elections. Residents set vehicles and tyres on fire and looted shops and businesses in the impoverished townships around Pretoria, such as Atteridgeville and Mamelodi.
Tshwane Metro police spokesman, Console Tleane, said a newly-built school was vandalised by gangs of rioters. There was an uneasy calm in the capital on Wednesday (22 June). With some roads impassable because of debris and burned-out vehicles from the violence with normal commercial life disrupted.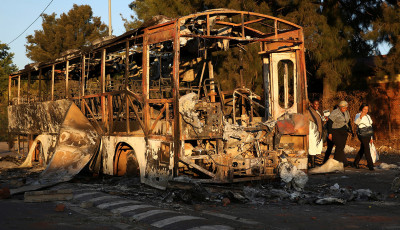 The dispute flared after an ANC member was shot dead on Sunday (19 June) as party factions met to decide on a candidate as mayor of Pretoria's Tshwane municipality. The ANC leadership named senior party member and former cabinet minister Thoko Didiza as its candidate, overulling regional branch members.
Tshwane residents want the incumbent mayor, Kgosientso Ramokgopa, to be allowed to run on the ANC ticket, but at a meeting with residents, Ramokgopa backed Didiza's selection and called for calm. Deputy President Cyril Ramaphosa urged Tshwane residents to accept Didiza even though she does not originally hail from the area (she comes from KwaZulu Natal province).
On 3 August, South Africa will hold local government elections that look likely to become a referendum on President Jacob Zuma's leadership amid mounting concern over weak economic growth. The ANC has been in power since the end of white-minority rule in 1994 but critics say it is losing support in areas - including Pretoria - where it was once unassailable.
Record unemployment and a looming recession have exacerbated discontent with President Jacob Zuma's leadership since the Constitutional Court ruled he had violated his oath of office by refusing to refund to the state some of the 240 million rand (about £11m, $16.25m) spent on refurbishing his private residence. Zuma survived impeachment in April.