My South African Adventure: Ostrich Capital of the World [BLOG]
Exploring South Africa's national arts festival celebrating Afrikaans culture - along with some big birds.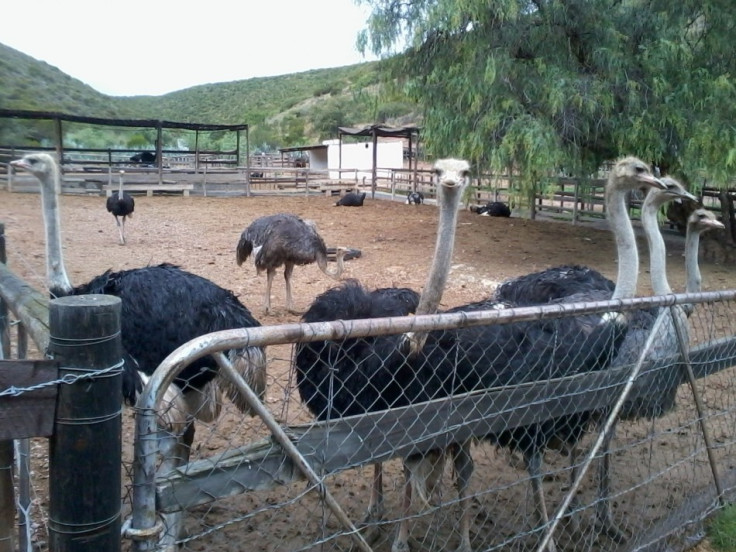 Finding myself in the Klein Karoo region of the Western Cape over Easter, I decided to give the KKNK (Klein Karoo Nasionale Kunstefees or national arts festival) a go.
It's the Afrikaans equivalent of the Edinburgh Festival and consists of eight days of music, theatre, dance and visual arts in Oudtshoorn, the largest town in the area, which is a hefty five to six hours northeast of my home in Stellenbosch and bills itself as the ostrich capital of the world.
And, it must be said, I've never seen so many fields with gangly, pre-historic-looking birds stalking around and pecking away at whatever grains or bits of foliage they can find in this semi-desert terrain.
Ostrich farming apparently started opportunistically in the Klein Karoo as long ago as 1864 after a huge drought killed off most of the crops, according to our tour guide at one such establishment.
The ostriches themselves had wandered down from the Sahara at some undefined point in the past and stayed because they're sun-worshipers and, unlike most of us, are quite happy with temperatures that can hit 52C during the summer.
And it was a lucky happenstance as they made the "feather barons", as they were known, an absolute fortune - a ton of white ostrich feathers, which only come from the familiar black and white males and acted as boas or fringes for clothing in the fashionable European capitals of Paris and London, was worth £10 in those days - the equivalent of about £1,000 today.
The females, on the other hand, are a dull brown-y colour and most of their plumage ends up as feather dusters, of which (amazing statistic) South Africa produces two billion or so each year.
Afrikaans-based culture
Both genders also metamorphose into quill socket leather handbags, shoes and even furniture, and grace many a South African dinner plate as a suitably low-fat, low-cholesterol burger, steak, kebab or whatever.
Their vast porcelain-look eggs, of which some females produce as many as 60 per year, weigh up to 160kg and are the equivalent of 24 chicken eggs. So a great find if you fancy holding an omelette party.
Anyway, I digress. The KKNK was set up in 1994 amid concern that the Afrikaans language, culture and arts were starting to wan, with youth, in particular, showing little apparent interest.
According to the 2011 census, Afrikaans is South Africa's third most common language and is spoken natively by 13.5% of the population, which includes people from both the white and coloured communities.
This compares with only 9.6% who have English as their first language and the predominant 22.7% who speak IsiZulu at home.
In order to showcase the talents of Afrikaans-speaking performers and give undiscovered artistes a platform on which to debut, a businessman from Oudtshoorn, Nic Barrow, and Andrew Marais, a former PR manager at South African publisher Naspers, grasped the nettle.
And nine years later, the festival has become an unparalleled success. The KKNK is now the biggest music and arts event in South Africa and gets around 15,000 visitors through its doors each year - although our friends from the Northern Suburbs seemed to think that numbers were down on last year, perhaps due to the showery rain and wind, which doesn't exactly encourage you to get out and about.
Nonetheless, the whole leafy town was, as is usual, given over to the spectacular. The streets were full of food and knick-knack stalls and there was a parade ground with music tents, beer tents and retail-heaven tents that you could access for the grand total of R40 (£3) per day or R100 for the full eight days.
Standard or adventure?
Another field that likewise cost to get into was given over to a big, main stage for the top acts, as well as a selection of some not so top ones that we sat and watched for a couple of hours in the drizzle, eating our chips and drinking our beer/wine, before it got too cold to continue.
And on top of all of this, a wide selection of theatre, comedy and dance performances were also on offer, many of which were being shown for the the first time and a few of which were even conducted in English.
If like us, however, as resolute non-Afrikaans-speaking tight wads, you don't fancy putting your hand in your pocket, there are also loads of pubs and bars and restaurants that host musical performances of their own for free, with styles ranging from folksy kinds of ballads to mock-Eurovision rhythms and even the odd bit of rock and/or classical.
Although many of the locals apparently dread it all a bit as they don't particularly enjoy getting swamped, the show has reportedly done wonders for the local economy. And, just as during the Cheltenham Festival, a lot of people allegedly make a bomb by renting their places out for the duration while they take themselves off somewhere else to hide.
If you do get weary of all the action though, there's always the stunning Cango Caves to go and see, which are only about 30km out of Oudtshoorn. These vast limestone caverns in the foothills of the Swartberg Mountains were allegedly South Africa's first tourist attraction, and host such delightful dripstone formations as the Organ Pipes, the Bridal Couple and Neville the Devil.
Although we only went on the 'Standard' rather than the 'Adventure' tour as none of us fancied squeezing ourselves through tiny, cramped, narrow passages or scaling rocky heights, we still tramped around for about an hour, and a good kilometer or so, and managed plenty of 'ooohs' and 'aaahs'.
It still only amounted to about quarter of the total vast expanse, however. But, because the human race's CO2 and sticky fingers tend to kill everything off, most of the rest of it, sensibly, isn't open to the wider public. Unlike the KKNK, which most assuredly is.
Cath Everett is a resting journalist who has written about business, technology and HR issues for over 20 years. She recently moved from the UK to South Africa with her husband.
READ:
My South African Adventure: Forgetting Britain in the Big Freeze [BLOG]
My South African Adventure: Keep 'Em Safe Drug Abuse Campaign [BLOG]
My South African Adventure: Grape Expectations in Land of Wine [BLOG]
My South African Adventure: Over-the-Top Security is Safe as Houses [BLOG]
My South African Adventure: Kraal Gallery, 102faces.com and 2people1life.com Seize the Day [BLOG]
My South African Adventure: Oscar Pistorius is the Talk of the Braai [BLOG]
My South African Adventure: Technology-Starved Amish Lifestyle is not for Me [BLOG]
My South Africa Adventure: Expat Briton Catherine Everett's First Taste of Mediterranean Manana Vibe [BLOG]
© Copyright IBTimes 2023. All rights reserved.