Two policemen in South Africa have been accused of launching a homophobic attack on a gay couple found having sex inside a car.
The officers allegedly filmed the lovers naked while hurling homophobic taunts at them before uploading the humiliating footage to social media where it has gone viral and "destroyed their lives".
News 24 reports that the Pieter­maritzburg policemen came across the men engaging in a sexual act in a vehicle near Camps Drift.
The video shows the visibly upset victims trying to cover their genitals as the raucous officers mock them.
"Who told you to get dressed?" one of the policeman queried.
"It is a shame what you are doing. Men are not supposed to do this," scolded his colleague.
The men are forced to sit in the car covering themselves while they receive a stream of abuse. Whenever they try to get dressed they are yelled at again by the officers.
Gay, Lesbian and Bisexual South Africans are guaranteed the same rights as everyone else. However, homophobia is rife in some communities.
"They are not coping at all," said Thabiso Mogapi, a campaigner with a group taking care of the men.
"The one man is a teacher and he is now being mocked by his own pupils and colleagues. The other man's family have disowned him. They did not know he was gay."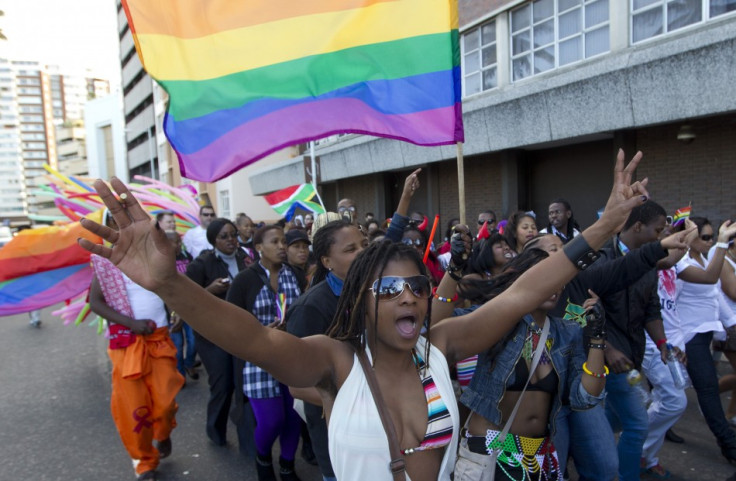 Mogapi said that if suspicions the men who filmed the video were police turned out to be true, the issue should be escalated straight to the minister of police because it had "ruined and destroyed" the victims' lives.
"There are many poor LGBT people who are treated like this by police everyday [in South Africa] and it is not reported," he added.
Mhlongo said she hoped the victims would come forward so that charges could be brought against whoever harassed them.
Pietermaritzburg Gay and Lesbian Network's Anthony Waldshausen said he found the video "despicable" and "upsetting".
"We want to take it further and we are trying to get hold of the couple so we can help them make statements should they want to open a case," he added.
A police spokesperson said enquiries were being made to identify the police officers responsible, adding that the footage had only recently come to the force's attention.