South China Sea dispute: British MP's comments falsely used in Chinese propaganda video
China is now playing the video in New York's Times Square to assert their claim over disputed waters.
A British MP has said she has been falsely used for a Chinese propaganda video about the South China Sea dispute. The video, which is currently playing in New York's Times Square 120 times a day, features a number of experts who appear to defend China's territorial claims over the South China Sea.
The propaganda video was created in response to a ruling by The Hague that stated China has "no legal basis" to claim resources in the South China Sea. In the three-minute video, the Labour Party's Foreign Affairs Minister, Catherine West, appears to support China's stance that the territorial dispute should be resolved through bilateral negotiations between itself and other nations directly involved, rather than through international tribunals.
However, West has said that her comments were taken out of context. In an email to Quartz, she said that while she maintained that dialogue was a crucial part of securing peace in the region, she was "perplexed and concerned" by the assertions of the video and did not know the footage would be used for the propaganda material.
West wrote: "Although I was of course happy to give an interview on my concerns regarding the militarisation of the South China sea and the need to work together to secure a peaceful resolution, I am not happy for the footage to be used in a way that suggests that I support the current approach adopted by China towards these islands."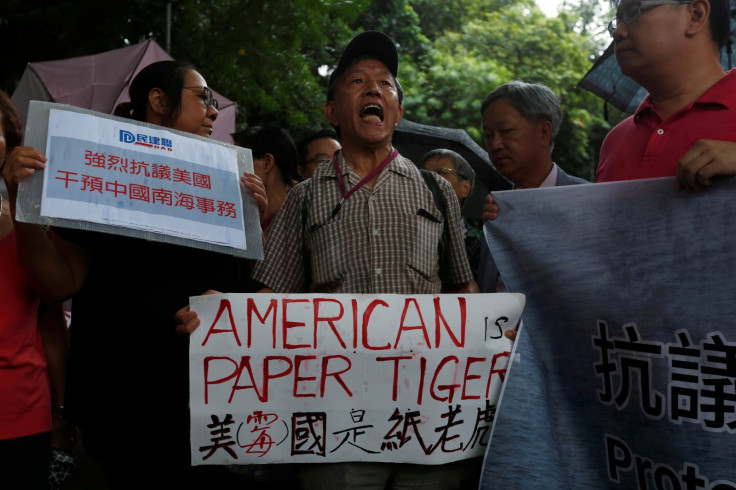 West went on to state that her parliamentary record in the UK has demonstrated that she has "consistently raised concern over Chinese island-building and military deployment in the South China Sea". She also noted that she has previously urged the UK government to do everything it can to ensure international law is upheld and that the region is stabilised for all parties involved.
China's South China Sea propaganda video is being shown in Times Square from 23 July until 3 August. According to Chinese media reports, the "video clarifies the truth behind the arbitration tribunal farce and reiterates that disputes in the South China Sea should be settled through negotiations".
© Copyright IBTimes 2023. All rights reserved.