Amid increasing tension over the South China Sea, China has organised for a video on the territorial dispute to be played 120 times a day in Times Square. The video will feature experts explaining why China has "indisputable territorial sovereignty and rights" over the waters and runs for just over three minutes.
The move comes weeks after The Hague ruled that China has "no legal basis" to claim resources in the South China Sea. The tribunal also found that China had violated the Philippines' sovereign rights and had caused damage to marine life, prompting China to accuse the Hague of being a "law-abusing tribunal".
State-run Chinese media reported: "The video clarifies the truth behind the arbitration tribunal farce and reiterates that disputes in the South China Sea should be settled through negotiations. The video features several experts and officials worldwide who defend China's position on the South China Sea disputes."
The President of China's National Institute for South China Sea Studies, Wu Schicun, appears in the video alongside the shadow secretary of State for Foreign Affairs of the British Labour Party, Catherine West. The is being shown in New York's Times Square from 23 July until 3 August and is said to have triggered approval from the Chinese diaspora in New York.
"[The video] narrates a history illustrating that China was the first to have discovered, named, explored and exploited Nanhai Zhudao and the relevant waters, and the first to have continuously, peacefully and effectively exercised sovereignty and jurisdiction over the area."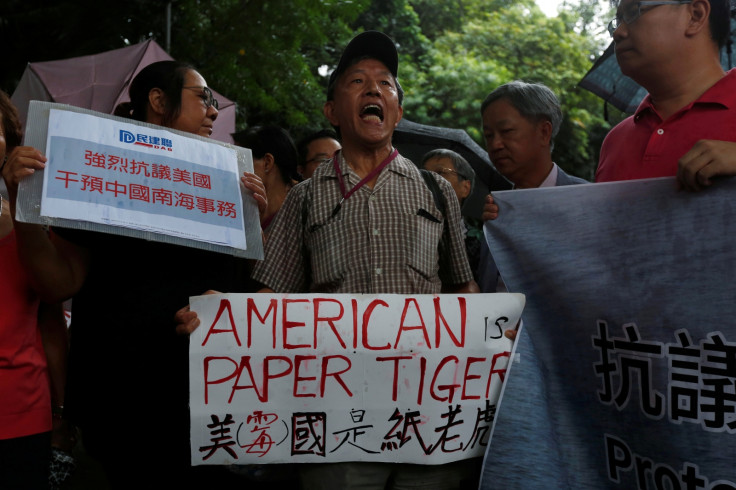 Many people in China believe that The Hague's South China Sea ruling against China was strongly influenced by the US and have boycotted American companies. A number of people were filmed smashing their iPhones following the ruling, while others protested outside a KFC restaurant, stating that eating KFC food from the US would be a "disgrace" to their ancestors.
China has increased military activity in the highly-disputed seas, causing much concern for its smaller neighbours and becoming a source of confrontation with the US. China claims most of the energy-rich waters, while Brunei, Malaysia, the Philippines, Taiwan and Vietnam also have claimed parts of the South China Sea.