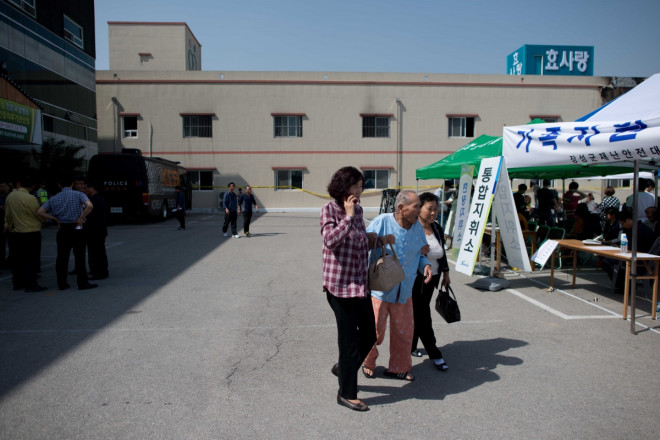 At least 21 people died in a fire at Hyosarang Hospital, in South Korea's Janseong county. Six others were seriously injured but the death toll could rise.
Police said they suspect an elderly patient suffering from dementia started the fire. The 81-year-old patient, whom video footage showed entering the area where the blaze started, has been detained.
The fire engulfed the second floor of the hospital's three-storey annex, where about 34 long-term patients in their 70s and 80s were lodged.
The windows of the rooms were locked for the safety of the patients, which is thought to have worsened the tragedy, national news agency Yonhap reported. Many of the bodies recovered had their hands tied to their beds.
The victims are said to have died of inhaling the toxic fumes. A female nurse who reportedly attempted to fight the fire with an extinguisher was also killed.
Many of the blaze's victims, who were being treated for dementia and strokes, were bedridden and required assistance to walk.
The fire was reported after midnight and was brought under control within 30 minutes. Seven people were safely evacuated from the hospice. Rescued patients were treated by firefighters outside the building.
Head of the hospital, Lee Hyong-seok, knelt and bowed before reporters and took responsibility for the accident, saying "I've committed a grave sin... There is no excuse when valuable lives were sacrificed."
Hyong-seok also said he was investigating reports that patients were tied to beds.
The hospital was swept by fire despite safety measures being employed, raising concerns over public safety standards.
Earlier this week, seven people died and 20 were injured in a fire at a five-storey bus terminal in Goyang city.