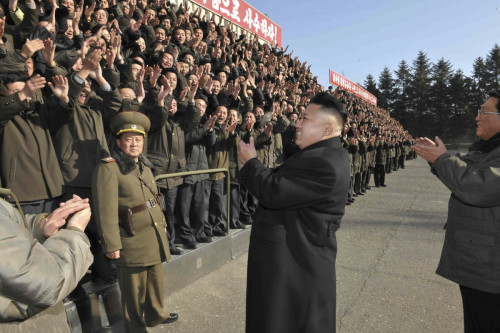 South Korea is increasing its surveillance of North Korea following its leader Kim Jong-un's recent visits to key military establishments.
Kim's latest visits have been given wide coverage in the North Korean media, hinting that the trips are quite important.
South Korea has also held a weekly top security review meeting, attended by defence and intelligence officials close on the heels of Kim's tours.
South Korea is scheduled to hold a joint military drill with the US in February, which South Korea calls a defence exercise while North Korea labels it a provocation and preparation for an imminent strike.
"The frequent media coverage of such (military) visits seem to underscore the possibility of the North's potential provocations targeting the South," said defence ministry spokesperson Kim Min-Seok.
As part of the latest measures, the unification ministry in South Korea plans to open a dedicated website on North Korea in order to provide comprehensive information ranging from politics to nuclear activities of one of the most secretive countries.
The defence ministry spokesperson also insisted that South Korea is keeping a close watch on North Korea's activities with "keen interest" after Kim's latest trips.
According to AFP, South Korean intelligence has noted that the strategic sites recently visited by Kim are "offensive in nature".
One of the installations is believed to be a special air force unit, which Kim visited immediately after the country's controversial third nuclear test in February 2013.
North Korea frequently warns against the annual drills jointly held by South Korea and the US. Condemning the upcoming military exercise, North Korea had threatened an "unimaginable holocaust" if South Korea pressed ahead with it.