South Korea, US and UK to hold first joint military drill to counter North Korea threats
Britain plans to send Eurofighter Typhoon combat jets, Voyager tanker aircraft and C-17 Globemaster transport aircraft.
To counter the rising threats from North Korea's intensified nuclear and missile tests, South Korea and its allies – the US and the UK – are gearing up for a joint military drill in November.
Earlier in the week, South Korea and the US conducted a joint naval drill in the Sea of Japan in the Korean peninsula, which was said to be a show of force by the two countries against North Korea. The countries are also discussing imposing tougher sanctions against Kim Jong-un's regime to stop him from pursuing the banned nuclear programme.
The South Korean Air Force said in a statement that the maiden joint military drill will be conducted between 4 and 10 November at Osan Air Base in Pyeongtaek, 70 km south of the South Korean capital Seoul. The drill, dubbed the "Invincible Shield" will involve a combined aerial exercise, the first of its kind, the statement added.
The UK is planning to send four Eurofighter Typhoon combat jets, Voyager tanker aircraft and C-17 Globemaster transport aircraft to take part in the exercise. F-15K and KF-16 fighters from South Korea will also participate in the drill with the US's F-16 fighters, the statement added.
A spokesman for the South Korean Air Force told Yonhap news agency: "The Invincible Shield drill is aimed at improving the allies' capabilities of attacking North Korea's major military and leadership facilities (if provoked) but also intercepting incoming fighters from the North.
"Through the exercise, the three countries will be able to bolster the interoperability of their military arsenals and joint operational capabilities in the event of conflict breaking out on the Korean Peninsula," the spokesman added.
The latest nuclear test conducted by North Korea earlier in September has enraged the South and other nations, who see it as a major provocation. Despite criticism and warnings from the West, Pyongyang has continued testing missiles and nuclear weapons, and has accelerated the pace. The 9 September nuclear test, its fifth and the largest so far, was followed by a test in January and was in addition to a series of ballistic missile tests.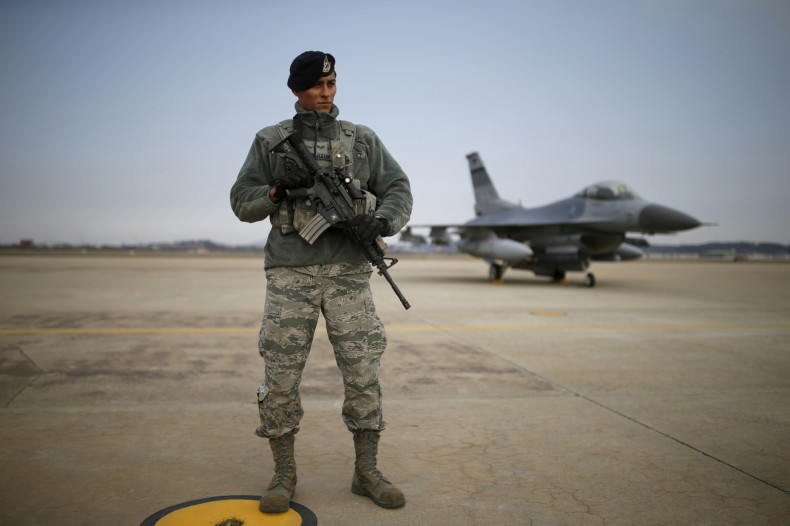 The North's actions prompted the South and its allies to take counter measures in case their security is threatened in the Korean peninsula. The US flew some of its bomber jets over the region following the latest nuclear test, sending a warning to Pyongyang that they are ready to face enemy strikes.