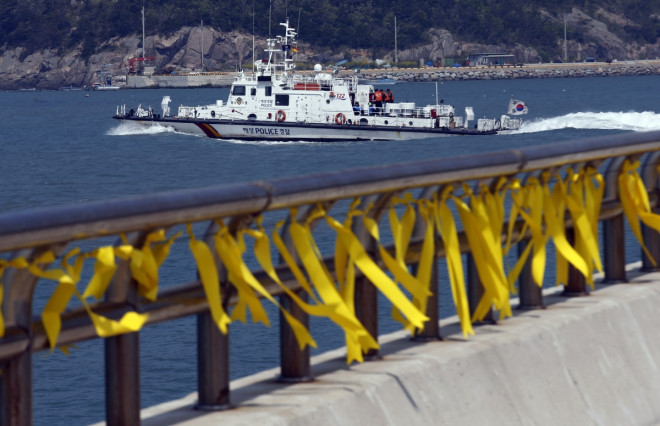 Searchers have found the body of a South Korean boy who was the first to alert authorities that a ferry he was travelling on with hundreds of other children was sinking.
The boy, said to be surnamed Choi, was identified by his parents who recognised his body and clothes after they were retrieved from the sunken vessel by divers. A DNA tests is expected to confirm the identity.
Choi made a frantic distress call to the emergency 119 number which put him through to the fire service, and then to the coastguard, minutes before the Sewol, a 146-meter (480-foot) vessel, capsized off South Korea's southern coast.
"Save us! We're on a ship and I think it's sinking," he said.
The coastguard said they subsequently received about 20 similar calls from children on the ferry from Incheon, in the northwest of the country, to the tourist island of Jeju.
Of the 475 people on board, more than 300 were junior students from Danwon high school, south of Seoul, on a trip to the island.
The official death toll in the disaster has reached 159, while nearly 143 passengers are still missing.
Students return to school
Meanwhile Danwon high school has reopened. Seniors grades students returned to class in the campus that has been sprinkled with yellow ribbons, chrysanthemums and photos of missing or dead schoolmates.
"Our Jung-hoon is a nice kid," read one message, left on a door. "Please. Save him. If he won't come back, please send him to a good place."
"[We are] constantly watching the news and crying, and going back and forth from the school, placing chrysanthemums and crying, and unable to do anything," said Lee Seung-min, an 18-year-old student.
Younger grades, including the 13 juniors who did not go on the ferry are due to go back to school next week, while it's not clear when the 75 students who survived the sinking will be able to return, as many remain in hospital.
Although it is still unclear why the vessel capsized, seven of the crew members, including the captain, have been detained by authorities for negligence.
It has been alleged that a delay in ordering passengers to abandon the vessel caused hundreds to remain stuck inside as it went down.
The captain said he waited because passengers could have been drifted away by the strong current and cold waters before help arrived.