South Korea's President Park Geun-hye on Friday appeared tearful as she apologised for the influence peddling scandal that has rocked her administration. In a live televised address, she denied being a part of any religious cult or shamanistic rituals and said "It is not true that I am a cult follower and held shamanistic rituals at the presidential Blue House."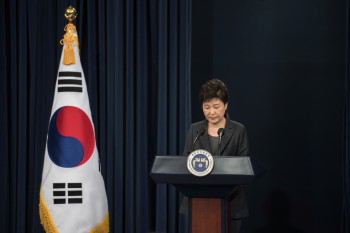 The 64-year-old leader added that her "heart was breaking" over the scandal and said that she will fully cooperate with prosecutors in their inquiry. She further said that every person involved should be held up to scrutiny, including herself.
"My heart is breaking for having caused pain and to those government officials and people in the field and the industries who helped me, I have caused huge disappointment to you, I feel really sorry. Everything is my fault and my mistake and I feel huge responsibility for this," Park said.
She further said "I will fully co-operate with the prosecutors' investigation. If necessary, I am willing to be investigated by them and will accept a probe by an independent counsel."
An official from the prosecution side refused to comment to Reuters when asked if Park will be questioned by investigators.
The opposition party leader said that the apology was insincere. In a statement, Choo Mi-ae, leader of Democratic Party of Korea said "The president should remove her hands from state affairs."
At the centre of the scandal is a long time friend of President Park, Choi Soon-sil, who is said to have influenced decision making at the highest level. The revelations have infuriated South Koreans, as thousands took to streets each day this week to demand her resignation.
According to a Gallup poll released on Friday, her approval ratings plummeted to an all-time low of 5 percent, a 12 percent drop from last week and a record low for any politician in South Korea.