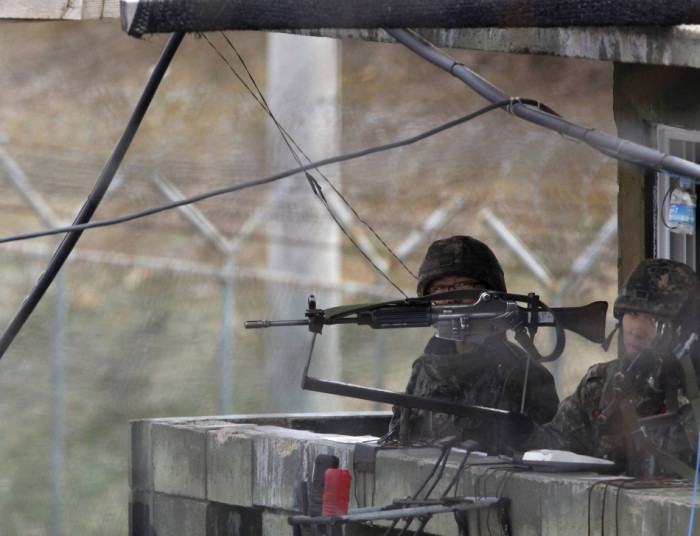 Tensions at the world's most militarised border between North and South Korea have increased further after a South Korean soldier turned his weapon on comrades, killing five members of his unit and wounding five more, before apparently escaping with a firearm and ammunition.
According to an official at the Defence Ministry the incident occurred at an outpost in Goseong county, a mountainous area east of Seoul. Citing standard rules for the ministry, the official spoke anonymously and would not confirm if the soldier, believed to be a conscript, was still on the run.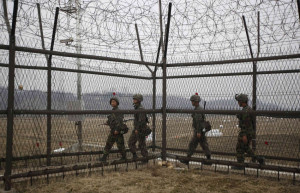 Communist North Korea has been increasingly belligerent lately, firing long-range missiles, conducting nuclear tests and threatening South Korea's leaders. The two countries have also traded fire in the disputed territories of the Yellow Sea. Although North Korea is not suspected of involvement in the fatal shooting, with thousands of heavily armed troops facing one another along the border, one stray bullet could spark further clashes.
Every able-bodied South Korean is expected to serve for two years in the country's 600,000-strong military, which is still technically at war with the North more than 60 years after an armistice was signed after the 1950-53 war involving Britain, China, the US and other nations in which over 1 million people are thought to have died.
This is not the first time a conscript has snapped under the intense pressure of serving in one of the world's tensest regions. In 2005 Kim Dong-min killed eight comrades with hand grenades and guns. In 2011 a marine shot at his own side at a Gwanghwa Island base, killing four soldiers and attempting to kill himself.
Also in 2011 it emerged that two South Korean soldiers fired 99 rounds at a South Korean Airbus A320, believing it to be from the North. The plane, carrying 119 passengers and crew, was not hit and landed safely.