South Korea's former president Park Geun-hye jailed in corruption probe
The tainted leader could be detained for up to 20 days for questioning.
South Korea's former leader Park Geun-hye faced yet another humiliating day after a Seoul court issued an arrest warrant against her. The impeached leader effectively becomes the first democratically elected South Korean president to be jailed as the previous two imprisoned leaders were military rulers.
Early on Friday (31 March), Park, 65, South Korea's first female president, was taken to a 70-square-foot detention centre in the southern part of the capital after the Seoul Central District Court ordered her arrest on charges ranging from bribery to abuse of power to coercion.
The high-profile influence-peddling scandal that captured the country for months led to her removal from office after a constitutional court upheld Parliament's impeachment on 10 March.
After the latest verdict, Park could be detained for up to 20 days for questioning over her role in the corruption scandal, in which her confidante, Choi Soo-sil, gained access to classified government documents that helped boost her business interests.
"The need for her arrest is acknowledged because there is probable cause to charge her and a concern of evidence being destroyed," the judge said after a nine-hour court hearing.
Scores of supporters waved national flags while a convoy of vehicles took Park to the detention centre where she will be given £1 ($1.3) meals. It is the same centre where others arrestees involved in the scandal, including Choi and Samsung's de facto leader Lee Jae-yong are also being held.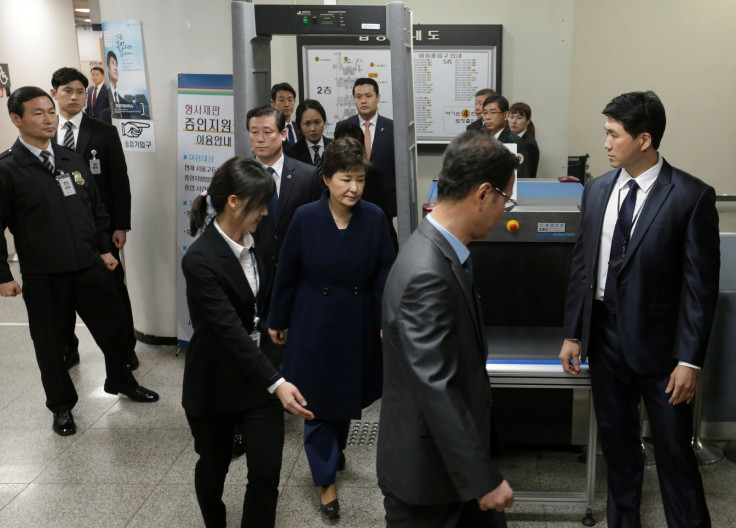 Park did not address reporters while entering or leaving the court building. Prosecutors need to frame formal charges against her before mid-April as the arrest warrant's validity expires in 20 days.
They are hoping to wrap up their investigation before 9 May so as not to jeopardise the scheduled presidential election.
She could face more than 10 years in prison if she is convicted of the charges. Park has claimed innocence and denied any wrongdoing in the entire scandal.
© Copyright IBTimes 2023. All rights reserved.