South Korea's interim president and Prime Minister Hwang Kyo-ahn is to hold a cabinet meeting following the constitutional court upholding parliament's impeachment of former president Park Geun-hye.
Hwang is expected to urge ministers to focus on the government's pressing issues. He is also widely expected to address the nation later in the day (10 March). Besides, he will hold a meeting of the National Security Council in order to address any security concerns stemming out of the absence of a president.
Park became the first democratically elected South Korean leader to be impeached. The court's verdict is final and there is no scope for any appeal against the decision leaving Park with no choice but to immediately vacate Blue House.
All the eight judges unanimously upheld parliament's move. Park, who was South Korea's first female president, has been embroiled in a high-profile influence-peddling scandal involving her confidante, Choi Soon-sil, who had reportedly gained access to sensitive government material.
Park's impeachment verdict has triggered protests in Seoul leaving at least two dead. Hundreds of security personnel have been deployed in the South Korean capital Seoul to keep a close watch on the situation.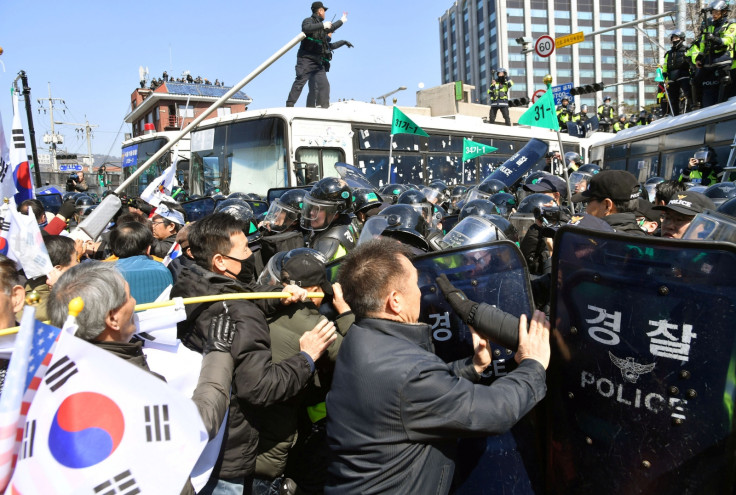 Meanwhile, the South Korean government has made it clear that Park's impeachment will in no way change Seoul's policy on inter-Korean affairs and its position against North Korea. Subsequent to the verdict, an official with South Korea's unification ministry was quoted as saying: "Despite the decision, the ministry plans to unwaveringly seek the country's policy on North Korea and unification."
Additionally, in a surprise move, Pyongyang was quick in responding to the development deriding Park. "She had one more year left as 'president' but, now she's been ousted, she will be investigated as a common criminal," the North Korean mouthpiece Korean Central News Agency (KCNA) said a brief dispatch.