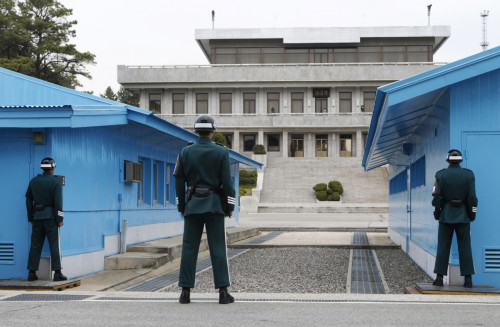 The rival Koreas have begun their first high-level talks in nearly seven years at the border village of Panmunjom.
The discussions, requested by North Korea, are happening at a time when South Korea is gearing up to hold a joint military drill with the US, an exercise frequently dubbed a war rehearsal by the North.
In a surprise move, Pyongyang called for talks on inter-Korean relations four days ago. The two sides moved fast to hold the meeting a few days after the proposal was mooted.
The exact agenda for the discussions has not been revealed but a wide range of issues are expected to be discussed.
The North Korean delegates are headed by Wong Ton-yong, the deputy chief of a ruling party affiliate that deals with inter-Korean affairs.
Seoul's Deputy National Security Adviser Kim Kyon-hyun, who leads the South Korean delegation, said prior to the talks: "This is an opportunity to open a new era of the Korean peninsula.
"I would like to attend the meeting with 'open attitude and mind' to study the opportunity. We will make an effort to proceed with the separated families reunion event as agreed."
Both countries have agreed to hold talks on the reunion of families separated in the 1950-53 Korean War. The talks will take place between 20 and 25 February, coinciding with the large-scale US-South Korea joint military exercise.
The upcoming meeting between Seoul and Pyongyang officials is also occurring on the eve of the US Secretary of State John Kerry's visit to South Korea. The top US diplomat is set to discuss regional tensions, including North Korea, and other bilateral issues with Seoul officials.